Taking vitamins daily is an essential part of our health. What most dog parents don't know is that dogs, too, require specific vitamins and minerals to keep them healthy. Read on to find out why vitamin supplements for dogs are vital for your newborn or developing puppy. 
Why dog vitamin and supplements?
Unfortunately, most commercially sold dog food does not carry sufficient nutrients for your dog. A lot of the important dog vitamins and minerals are lost when ingredients are heated up when processing dog food. 
This is why we never recommend going for the cheapest option of kibble on the market. The nutrients in cheap dry dog food are abysmal and there are other unwanted ingredients to watch out for like saturated fats and meat by-products.
You can only be safe with premium brands of kibble. Although these dry dog food brands have most of the nutrients your dog needs, their price tag is not something you can smile about.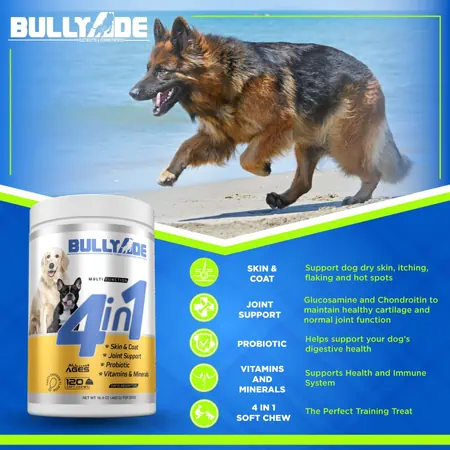 So what about homemade dog food? This is an excellent way to deliver high nutrients to your puppy. Yet, some dog vitamins and minerals can be lost in the cooking process. Although your dog is eating a healthy homemade diet, this diet may not be meeting the dog's daily nutritional requirement.
Also, some dogs have a hard time absorbing nutrients from their food. It could be a genetic predisposition or the aftermath of an underlying sickness. On such occasions, supplementing is the only way to ensure your dog is getting the nutrition it needs. 
This is why we recommend getting your furry friend on the best vitamin supplements for dogs and puppies.
Benefits of Dog Vitamins and Supplements
Every dog is different in terms of the vitamins and mineral intake they require. Fortunately, our Bullyade dog vitamins and supplement contain all the supplementary nutrients required by all dog breeds. These supplements have been used on American bullies and Old English bulldogs. Our products are manufactured in an FDA-approved facility so we are confident that they are safe and beneficial to your dog.
It boosts your dog's immunity
Newborn puppies build their immunity from suckling on the mother's milk. As they get older, they suckle less and have to boost their immune system from the foods they eat.  If your puppy is not getting suckle less and now gets their immune boost from the food they eat.
Food that is not high in nutrients won't do much in strengthening your dog's immunity. Fortunately, supplementing with Bullyade dog vitamins and supplements guarantees your dog gets all the vitamins and minerals necessary for fortifying their immune system.
Bullyade supplement for puppies is rich in vitamins A, B, C, E, D. Vitamin A fights infections while vitamin D and vitamin C directly strengthen the immune system. One of the B vitamins, B9 or Folate, is essential in the formation and function of white blood cells, the cells that keep diseases at bay.
A healthy source of nutrients
All the dog vitamins and supplements minerals can be found in a bottle of Bullyade vitamins for dogs. Our product contains all the vitamins (A, B, C, D, E) necessary for optimizing physiological functions in your dog's body. In addition, Bullyade is rich in the minerals copper, calcium, iron, magnesium, manganese, potassium zinc, and phosphorus.
Did you know that puppies and older dogs require 22 different amino acids to maintain strong and healthy muscles? And they can only get these many
Great for skin and coat
A dry, rough, or itchy coat is one of the signs of nutrient deficiency in dogs. Puppies and dogs require healthy fats and vitamins to keep their coats lush and pet-worthy. Our Bullyade vitamins and electrolytes for dogs and Bullyade 4-in-1 soft chews both contain healthy fatty acids, Omega 3 and Omega 6. These fatty acids enrich the skin and coat ensuring they maintain soft and healthy. Omega fatty acids also fight inflammation and reduce itching.
Grabbing a bottle or two of Bullyade is the best way to keep your dog's skin and coat healthy. All dogs are susceptible to a dry coat this winter and you can prevent that from happening by supplementing your dog's diet with our product.
Dog vitamin supplements for hips and joints
Dog breeds like the American bully are born for adventure. They love to dash around, scale high places, and keep an active lifestyle. This constant activity does put pressure on the dog's joints and bones. As the dog ages, they are likely to develop joint pain or arthritis if they are not getting enough nutrients to fuel their lifestyle.
We recommend Bullyade supplement or our Bullyade 4-in-1soft chews because they are both enriched with chondroitin and glucosamine. Glucosamine is an active supplement ingredient that enriches the skeletal structure of your dog. It reduces bone friction, heals damaged cartilage, and alleviates arthritis symptoms.
Chondroitin or chondroitin sulfate is a naturally occurring substance found in cartilages. Supplementing your dog with Bullyade helps replenish damaged cartilage and ensures the optimal function of healthy cartilage.
Improves digestion
A healthy gut makes it easy to digest food and absorb nutrients into the body. Yet, dogs are vulnerable to intestinal infections given their habit of sniffing and nibbling at anything indoors or outdoors.
Fortifying your fur baby's diet with Bullyade dog vitamins and supplements ensures they get the benefits of a healthy gut. Our pet supplement for puppies and dogs contains the probiotic, Bacillus coagulans, which improves your dog's digestion and helps fight any stomach bugs. 
Also, Bullyade pet supplement is great for any dog that is suffering from vomiting and diarrhea. We recommend adding Bullyade to the dog's drinking water to replenish lost electrolytes. What's more, Bullyade dog supplement for gut health contains a chicken or beef flavor that your dog will love, especially if the dog has trouble drinking water or eating its food.
Finally
If you are looking for the perfect festive gift for your dog, we recommend getting them the dog vitamins and supplements they deserve. It ensures your dog gets the essential vitamins and minerals they need and keeps their gut healthy. Bullyade is great this winter season for maintaining a soft, healthy, and lustrous coat in your dog. And if your dog is a picky eater or drinks less, the chicken and beef flavor in our products is enough enticement.
Take advantage of our Early Christmas Sale today and get more of our products for less!
I am a dedicated and highly experienced professional content writer and SEO expert. With a passion for creating compelling content and a deep understanding of the latest SEO techniques, I have helped numerous small businesses reach new heights of success.
My expertise lies in crafting engaging and optimized content that not only boosts website rankings but also drives meaningful conversions. I am well-versed in conducting in-depth keyword research, analyzing competitors, and determining the most effective SEO strategies for each unique business.
 I am ready to bring my expertise to your team and help you achieve your digital marketing goals.
Find me on;
Website: https://digitalmarketingchap.com/
Email: hello@digitalmarketingchap.com