How Electrolytes & Vitamins For Dogs Can Help Bullyade makes your dog skip the antibiotics & more!
With its versatility and unique formula the possibilities are limitless. Don't take our word on it, check out the Pet Health Learning Center. (There you will find detailed information on each vitamin in Bullyade.)
Bullyade can be a life-saving aid and is very easy, yet simple to use.
Oh! and one last thing, "Wouldn't it be nice to give our best friend a few more options other than water?"
Speeds up recovery process from sickness

Ensures your pet is receiving the nutrients they need

Regulates their body temperature

Fast recovery from dehydration

Changes water flavor to something they like

Used to create healthy pet treats (ice treats, dog biscuits)

Sprinkled on food as an added vitamin supplement
*Results Will Vary*
Bullyade Electrolytes For Dogs!

Bullyade is a unique Electrolytes for dogs based formula designed to give your dog "key" nutrients.
Bullyade supports animals in many different ways; For example, not only does it play a vital role in keeping your dog healthy, but it can be used as a first line defense against many common sicknesses-illnesses know as:
Did you know that when your puppy is sick, infected or is suffering with symptoms like Dog Vomiting, Loss of appetite, Dog Diarrhea, or blood in dog stool, dehydration is the number one cause of death?
Bullyade can help prevent dehydration by replenishing lost fluids & electrolytes at a faster rate than most traditional methods.
During the hot summer months, K9's are at a high risk to heat exhaustion, which can stem from dehydration and overheating.
Whether its hot summer months, short nose breed, working breeds, or even just playing fetch; Bullyade can help.
It's a great way to ensure recovery and overall health and wellness.
My dogs LOVE Bullyade!! Out here in Texas it gets HOT! I always have some Bullyade waiting for them after our walks. They love it!
I show my dogs love by giving them the best, BULLYADE helps to make that happen. Great product, they love it.
We have used Bullyade ever since our dogs arrived to our home. Its one of the Best Supplements their is. Our pups stay hydrated at all times and their coats are looking amazing.

Bullyade Changes The Taste Of What Your Dog Drinks Daily Wouldn't it be nice to add some flavor to your dog's water?
Frequently Asked Bullyade Questions
WHAT IF MY DOG WON'T DRINK BULLYADE?
Finally, the Bullyade supplements you ordered have arrived and you are so eager to let your dog have them. You cannot contain your excitement because your pooch is going to have the best vitamin supplement you can give him. But, what if Bingo does not like the new strange taste?
Relax, not all of them will dive straight into a new pet product when it is introduced to them the first time. No need to start scrutinizing the return policy on the delivery box or consider a refund. We have some tips that will get your dog to want every scoop of Bullyade you give him.
Be patient with Bingo.
He needs time to adjust to the new taste. Dogs are known to be picky eaters, and drinkers too, so you will have to be really patient. Give him a day to snoop around the bowl as he explores this new scent and taste. He will take a few slurps then walk away which is fine. Soon he will get really thirsty and will want to drink. At this point, he should be accustomed to the new taste and he will take a good gulp the second time.
Mix Bullyade with other drinks.
Besides water, dogs enjoy other liquids like broth.  Bingo will happily slurp away at his bowl of soup and never suspect a thing.
Dogs like carrot juice too which has a good amount of potassium, and fiber. Bingo! You have nailed three of the essentials nutrients your dog needs. All you need to do now is add some Bullyade into the carrot juice and your pooch gets the remaining 18 multivitamins.
Introduce your dog to Bullyade early.
If you have puppies that are being weaned from their mother's milk, this would be a great time to introduce Bullyade to them.  Mix Bullyade into the puppies' drinking water or kibble and let them quench their thirst. By the time they are grown, Bullyade would be one of the flavors they enjoy in water food and other recipes you prepare them.
What if your dog grows tired of Bullyade?
It can happen especially if it's in his drinking water. Let your dog have his normal and then ensure Bullyade is in his broth and fruit juices. You can continue to provide your pet what they need through some of the Bullyade Recipes.
Your dog has a lot to gain from drinking Bullyade.
This supplement helps your dog stay healthy. It will step up his immune system by replenishing the levels such as A, C, D, and E. Bullyade is rich in calcium and phosphorus which are important in the development of strong joints and bones in your dog.
If your pooch is sick, chances are he is losing lots electrolytes and nutrients through pet diarrhea or by not feeding properly. Bullyade replenishes the lost nutrients and electrolytes helping your dog recover faster.
So do not fret if your dog turns his nose away when you give him his water. Be patient and employ the tricks we just gave if. Everything should be fine after and Bingo grows healthier each day!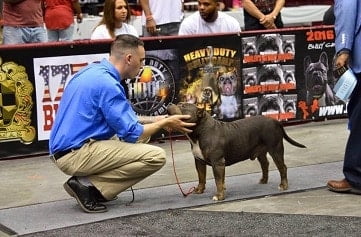 Champions Use Bullyade Ranked Number One Shorty Bull owner in the world, BOBBY HEUMANN uses Bullyade.
"I endorse and recommend Bullyade to anyone who has a dog." 7 Best in Shows – #1 Shorty Bull in the world (Amerian Bully Kennel Club)