Bullyade is a Dog Diarrhea Treatment
When you notice diarrhea symptoms of your dog, you should never neglect it and you want to get some sort of treatment. Many different factors can cause this to happen.  And a diarrhea treatment can truly help. Some of these are intestinal tract diseases, toxins, inflammation, parasites, and infections are some of them.
It has the ability to create a negative impact on the overall health and well-being of any animal. That's because diarrhea has the ability to cause blood circulatory problems or depleted blood. If you don't take the necessary steps to treat your K9, it can even lead your pet towards death.
After noticing the symptoms, you don't need to worry about anything. That's because a variety of home remedies are available for you to treat the symptoms and it holds a prominent place out of them.
What is Bullyade?
Bullyade can simply be defined as a hydration supplement available. As you already know, diarrhea has the ability to lead them towards dehydration. It's in a position to keep your loved one away from dehydration. As a result, you will be able to keep them away from the negative effects.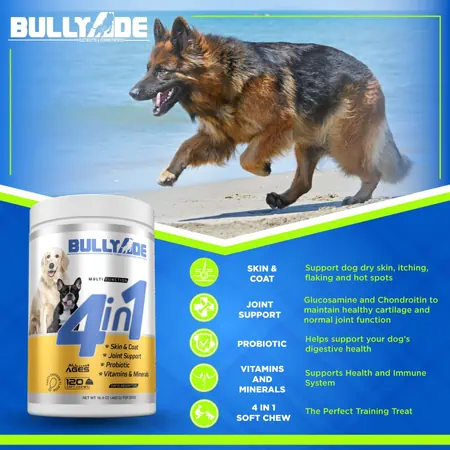 How does It work?
It's packed full of vitamins and electrolytes. They are responsible for delivering effective results. In other words, it has the power to replenish electrolytes at a faster rate when compared to water.  This is especially for a parvo treatment. This can create an ideal environment for them to recover. Our vitamin is not made out of any toxin ingredients and you don't need to worry about anything before giving it to the pet. In other words, it is not in a position to lead them towards harmful side effects in the long run.
Using this to treat diarrhea is much effective when compared to other types of home remedies. For example, it has the ability to deliver better results when compared to placing them on a 24-hour fast track and feeding them with a bland diet. It has specifically been designed to deliver quick results and to help them get rid of diarrhea symptoms.
Why dogs love It So Much
You don't need to worry about anything when you are giving this. In fact, as they will love to consume it. When you mix Bullyade with water, the flavor would be converted to chicken or beef. Therefore, they would drink it without complaining about anything. That's because this product offers a flavor that they simply cannot resist.
It can help you make your life easy while you are dealing with the frustrating diarrhea symptoms. You just need to mix a bit of this hydration drink with their water. It would then replace all the electrolytes eliminated from the body, due to diarrhea.
Your dog is your best friend and it is your responsibility to take care of its health. Therefore, you can give Bullyade to them without keeping any doubts in mind.