Inflammation is nothing exciting especially for a cute dog like yours. So a diet filled with anti-inflammatory foods is necessary to keep your pup healthy.
Foods that reduce inflammation
Not all inflammation is bad. Inflammation is the body's way of responding to an infection by releasing white blood cells in the affected area. The only downside is the pain that comes with it which affects both humans and dogs.
Eating whole foods rich in anti-inflammatory ingredients can help alleviate the pain. For humans, foods rich in anti-inflammatory properties include turmeric, ground flax seeds, cloves, ginger, rosemary, paprika, and a wide variety of spices.
Dogs can reap the same benefits from these foods. However, Bingo won't be ready to chew on a turmeric root or nibble a few flax seeds. But he would love to gobble up his favorite cookie which is rich in anti-inflammatory foods. Lets get to learning have to make Anti-Inflammatory Dog Treats with Bullyade.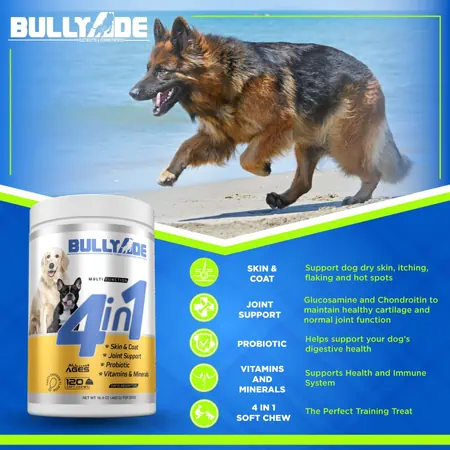 Ingredients
¾ cup of hot water
2 ½ cups all-purpose flour
2 scoops Bullyade Beef or Chicken powder
2 tbsp. Brown sugar
1 tbsp. Turmeric powder
Half a cup ground flax seed
1 egg
2 tbsp. peanut butter
Baking Station
Baking tray or pan
Parchment paper
Whisk tool
Rolling pin
Two mixing bowls
Electric mixer (optional)
Cookie cutter
Directions
Preheat your oven to 176℃ (350℉)
Line your baking tray with parchment paper
Dissolve the Bullyade powder in hot water and set the bowl aside
On a different bowl, combine the flour, brown sugar, turmeric powder, and ground flax and whisk into a fine mix.
Add the flour mix into the Bullyade water together with the egg and peanut butter. Knead with your hands until you achieve a smooth dough ball. Let the dough rest a bit before you start cutting it. This part will be faster if you have an electric mixer.
Roll out the dough on a floured surface. Cut the dough into desired shapes using the cookie cutter. Place the cut biscuits on the baking pan.
Place the tray in the oven and bake for 35 minutes. The treats will be ready if they are fully dry and slightly hard. When they cool they will harden some more.
Now let Bingo have his favorite cookie and keep joint pain at bay
Extra tips For You
Our dogs totally love this version of anti-inflammatory treats. Feel free to experiment with different ingredients especially those that your dog loves.
Get creative with your cookie cutter. Use heart-shaped cutters for treats you will use as rewards. Use a different cutter, say bone-shaped, for normal treats.
Let the treats bake until they harden so they last several weeks.
Bullyade packs calcium and phosphorus that help reduce inflammation by strengthening bones and joints.
A great substitute for all-purpose flour is whole-wheat flour which is healthier. If your pup lives on a gluten-free diet, use sorghum, oat flour, or chickpea flour instead.
Oats are rich in fiber and add a chewy texture to cookies that dogs love.