Dogs require vitamins and minerals
Dog require vitamins and minerals added to their diet for a number of reasons. Electrolytes and vitamins for dogs aka Bullyade, provide dogs the much needed boost during the summer months to prevent heat exhaustion. Bullyade help dogs regulate their body temperature which in turn could save their lives, Hence it's called Bullyade. It is important to understand electrolytes and vitamins for dogs shouldn't only be added when the dog is sick, but as a part of the daily nutritional plan as well. There are two groups of vitamins – water-soluble and fat-soluble. Signs of water-soluble vitamin deficiency include slower healing of wounds and skin lesions, dry coat, persistent diarrhea, anemia, weakness, weight-loss, and poor growth. Fat-soluble vitamin deficiency is manifested with: reproductive problems, poor eruption of permanent teeth, deformed growth and night blindness.
The first year of a pup's life
The first year of the pup's life is the one carrying most risks associated with infectious diseases, sometimes proving to be difficult or impossible to cure. Even with following regular vaccination protocols and deworming, some puppies are prone to infections due to lack of strong immune response associated with mineral and vitamin deficiency. In cases of parvo virus infections, replacing the constant loss of electrolytes and enhancing the immunity with enough vitamins can save your dog's life.
You can start giving pups vitamin and mineral supplements when they are just 6 weeks old on daily basis. With this, you will boost the dog's immunity and vaccination induced immune response early in life. Balanced electrolyte solutions aid in maintaining strong growing skeleton, fast metabolism and gut peristaltic; while most vitamins have a key role in keeping the population of the gut microflora (positive-bacteria) high and the productions of most important body and blood cells.
Electrolytes and Vitamin Supplements for dogs
Electrolytes and Vitamins for dogs can be introduced at any age or physiological state. In cases of dogs having fatigue issues or lack of energy, it's time to start vitamin supplementation after consulting your veterinarian. Many organ systems will benefit from additional vitamins, such as the liver, the kidneys, brain, heart and cardiovascular system, eyes, integumentary (skin) and immune system. The results can be seen in days to weeks after the supplementation starts with a shiny coat, increased energy and increased appetite.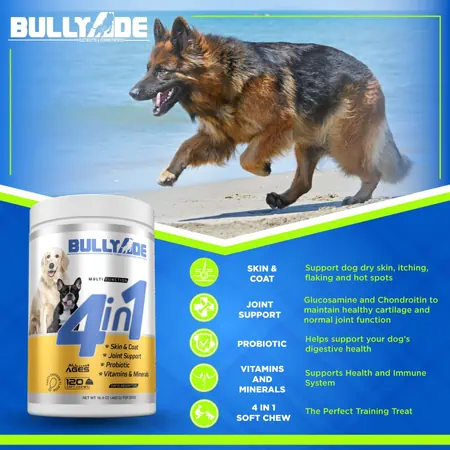 Electrolytes and vitamins for dogs are especially necessary when the owner decided to cook the dog's food. In this case, it's almost certain that the dog suffers from some form of mineral or vitamin deficiency. The supplements should be introduced immediately according to the dog's size, breed, and gender. Again i must say, Bullyade is also extremely important during the summer months. Many pets will not make it due to the summer heat, Bullyade can prevent that from happening. We are focusing this article on the vitamins and minerals, but it is as important to know that the electrolytes for dogs are extremely important as well for dogs of all ages.
Benefits of vitamins for older dogs
Benefits of vitamins for older dogs are of utmost importance when you want to prevent diseases usual for senior dog's which will cost you a lot in veterinary bills. The digestive system of older dogs doesn't absorb as many nutrients (vitamins and electrolytes) and lose even more through the kidneys. Besides, senior dogs eat less due to a number of reasons, for example oral diseases, chronic pain related to osteoarthritis, metabolic and hormonal diseases etc.
In conclusion, the benefits of feeding your dog quality vitamin and electrolyte supplements are seen as the dogs became more active and tend to eat more, have strong and proportional skeletal and muscle structures, don't get sick as often, have great vision, reflexes and responses and are happier in general.
How to Introduce a Dog to a Cat in 6 Easy Steps
Are you wondering how to introduce a dog to a cat for the first time? Or maybe you are thinking of how to introduce a dog to…Read more