A tasty treat is a dog's favorite love language and one of the best ways to build a strong bond with your furry friend. Soft chews for puppies and dogs are the new trend of tasty treats and they promise a boatload of benefits for pets. But how do you choose the best soft chews dog treats for your growing pup?
As you shop online for healthy doggy treats (start here if you haven't), you might have come across the debate between hard chews and soft chews. While bot
Hard Chews vs Soft Chews, which one is better?
Choosing between soft chews vs hard chews depends on how you intend to use the treat. Hard chews are handy when you want to keep your pup busy for a while. They are tough and take longer to break down, chew, and digest.
We recommend hard chews for dogs that need to focus on one activity without minimal distraction. It could keep them preoccupied while you go about duties in the house or rush out for errands. Hard doggy treats are great for teething puppies too. The tough texture of the chews provides relief from the discomfort caused by new teeth pushing through the gums. As your pup gnaws on the hard chew, its teeth get cleaned and prevent the buildup of plaque and tartar.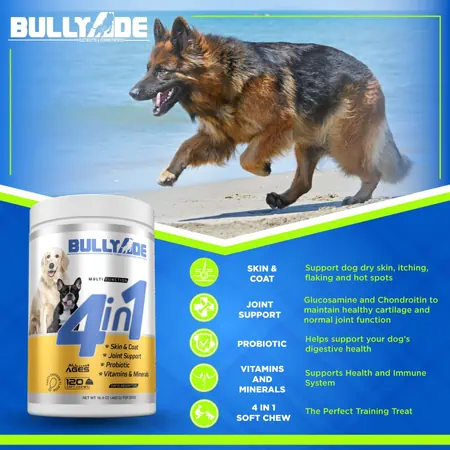 So, are hard chews good for puppies?
Hard chews are ideal for puppies that are at least 6 weeks old. A 6-week old puppy already has most of its teeth formed and will need to chew on hard things to keep them strong. Chewing on hard treats also strengthens the gums and jaws.
We would not recommend hard chews for dogs on puppies that are below 5 weeks old. Their teeth are still delicate and are likely to hurt themselves if they chew on something tough. Furthermore, most hard chews on the market are only for passing time and rarely have the right nutrition value for puppies.
Soft chews for puppies
Soft chews are ideal for a 3-week to the 5-week old puppy. They are easier to chew and gobble up in seconds. And there are plenty of situations where puppy soft chews come in handy.
Soft chews for puppies are easily digestible and can be used as a quick reward. You can also use soft chews for puppies during training when you want to get the dog interested in a command or activity. The more the dog associates obedience to a command or activity with a tasty reward, the faster they are willing to learn and retain that command.
You can use soft chews to appreciate a puppy that does a good job. It could be when they finally grasp their potty training lessons or when they obey a command taught earlier. Also, soft chews for dogs can be used when you want your dog to remain behaved, for example, when grooming a puppy and you want them to stay put.
Puppy soft chews are easy to digest and can be offered at any frequency. Yet, you have to be careful about the ingredients that are in the doggy treat to prevent unhealthy weight gain in your pooch.
The best soft chews for young puppies
The best soft chews for puppies are those made with natural ingredients and do not contain harmful additives. Also, ensure all ingredients used in the soft chews are beneficial to puppies, especially in their early growth and development stage.
What you want is a soft chew treat loaded with minerals like Calcium to promote the growth of healthy bones and joints. You also need healthy fats in there to nourish the skin and coat as well as provide joint support. As a bonus, go for soft chews for puppies that contain ingredients to promote a healthy gut too.
Best soft chews ingredients
There are thousands of natural healthy ingredients on the market today and pet nutritionists are coming out with new products each day. But as a safe place to start, here are some of the ingredients we find healthy and beneficial to puppies.
Organic flaxseed
Flaxseed contains vital fatty acids, Omega 3 and Omega 6, which keep the skin healthy and the coat shiny. Also, flaxseed is rich in alpha-linolenic acid, a natural anti-inflammatory that boosts a dog's immune system.
Ocean Kelp
Ocean kelp is a rich source of antioxidants and probiotics. It is a natural mood relaxant that helps puppies cope better with environmental stress. Ocean kelp has antioxidant properties to support the immune system and improves digestive health too.
Chamomile
Chamomile is a herbal supplement that has sedative and relaxing properties. It calms an angsty puppy and has muscle-relaxant qualities that help comfort a tense dog. Chamomile for dogs has anti-inflammatory qualities as well.
Ginger root
Ginger root is an organic supplement with antioxidant properties. It is ideal for providing relief to a nauseated or bloated puppy. In addition, ginger root improves blood circulation, provides relief from motion sickness, and promotes a healthy gut. Vets recommend ginger root to reduce inflammation in arthritic dogs.
Fish oil
Fish oil is the best source of healthy fats for dogs. It is rich in Omega 3 and Omega 6 fatty acids that moisturize the skin and coat keeping them healthy. Omega fatty acids also reduce shedding and moisturize flaky skin. Soft chews for puppies containing fish oil help reduce inflammation caused by excessive itching.
Dried Shellfish
Dried shellfish are a great source of natural proteins for your puppy. Your pup also gets plenty of zinc, magnesium, and iron from consuming shellfish treats. Dried shellfish for dogs is rich in Omega 3 fatty acids as well.
Pumpkin Seed
You can never go wrong with pumpkin for dogs. Pumpkin seeds carry the ingredient cucurbitacin, which is an organic amino acid with deworming properties. Cucurbitacin is a natural way to deworm a puppy that is suffering from ringworms, pinworms, or roundworms. You can read our blog on signs that your dog has worms.
Dried potato product
Potato starch or potato powder are fillers in soft chews for puppies. They are a source of calories for puppies but are given in small quantities to prevent excess weight gain.
Dried animal products
Dried animal products add a rich meaty flavor to soft chews to make them palatable to puppies. Dried chicken liver is a common natural flavoring in most doggy treats.
Brewer's yeast
Brewer's yeast packs plenty of B vitamins which are needed for healthy skin and organ function. Also, brewer's yeast promotes eyesight and healthy hair growth in puppies.
Our Bullyade 4-in-1 Soft Chews for Dogs and Young Puppies
In the spirit of finding the healthiest solutions for puppy doggy treats, we came up with a new product that your pup will love. Bullyade 4-in-1 soft chews for puppies have natural ingredients such as dried shellfish, brewers yeast, and dried animal product (for that chicken flavor). It is rich in the probiotic, bacillus coagulans, which promotes a healthy gut in your puppy.
Our soft chews for puppies contain glucosamine and chondroitin, which promote cartilage generation and overall joint health. We added Omega fatty acids to ensure your puppy develops healthy skin and coat and is protected from atopic diseases like sarcoptic mange.
Each bottle contains 120 soft chews that are small enough for your pup to chew and gobble in minutes. Our soft chews for puppies are manufactured in an FDA-approved facility and do not contain any artificial preservatives or fillers. We also stayed away from grain and corn because they have little benefit for our furry friends.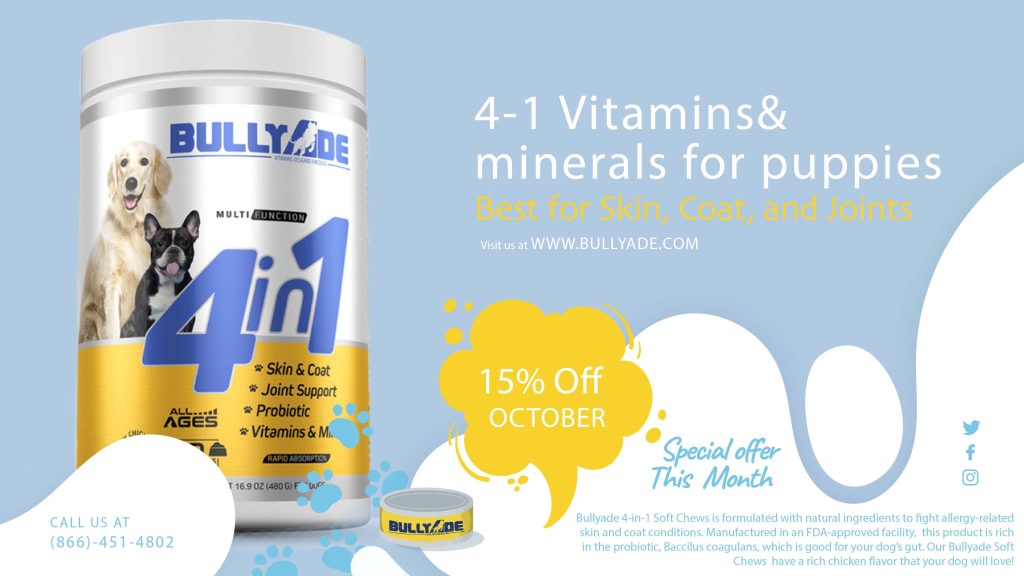 I am a dedicated and highly experienced professional content writer and SEO expert. With a passion for creating compelling content and a deep understanding of the latest SEO techniques, I have helped numerous small businesses reach new heights of success.
My expertise lies in crafting engaging and optimized content that not only boosts website rankings but also drives meaningful conversions. I am well-versed in conducting in-depth keyword research, analyzing competitors, and determining the most effective SEO strategies for each unique business.
 I am ready to bring my expertise to your team and help you achieve your digital marketing goals.
Find me on;
Website: https://digitalmarketingchap.com/
Email: hello@digitalmarketingchap.com