Your dog can do better with plenty of Thiamine or Vitamin B1 in his diet. However, the problem is that he cannot absorb the mineral from the food he eats. Therefore, Vitamin B1 supplements for dogs is the only way to ensure he rips the benefits of this mineral.
Sources of Vitamin B1
Dogs could get plenty of thiamine from quality dry kibble but it is not always the case. This is because vitamin B1 is a very unstable vitamin as it is sensitive to heat and water. Commercially bought dog food is often processed in large amounts of heat and water which depletes the vitamin.
So, the only option to get him his vitamin B1 is through a raw food diet and pet supplements. Thiamine is found in plenty of meats and whole grains. If you switched your dog to a raw diet, ensure there are plenty of organ meat like liver and kidneys in his diet. You may want to incorporate some whole grains too as they also contain thiamine.
Pet supplements are a sure way that your dog is getting his vitamin B1 in the recommended dose. How much of the supplements you give your dog will depend on his age, size, and health. Generally, bigger dogs or sickly dogs will require larger amounts of thiamine for their well-being.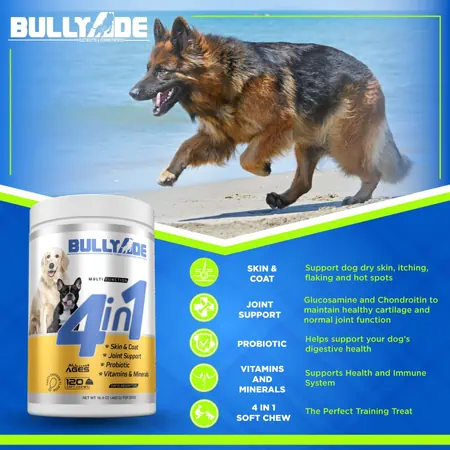 Benefits of Thiamine
Thiamine is part of the vitamins that are necessary for your dog to be healthy both internally and externally. Vitamin B1 plays an integral role in organ health and promoting motor functions in your dog. The mineral is also known to maintain a healthy brain and boosting the cognitive function of all dogs.
Thiamine is also part of the vitamins required for the breakdown of carbohydrates. Once digest, this carbohydrate is converted to energy in the form of Adenosine Triphosphate or ATP. This will be your dog's energy reservoir and he will need it during exercising or training.
Vitamin B1 promotes good eyesight in dogs. Your dog's visual acuity receives a boost allowing him to see better even at night. If he is a guard dog, you will not have to worry about intruders sneaking past him.
Thiamine deficiency
If your canine pet is not receiving adequate amounts of thiamine he will begin to show some common symptoms. One is that he will lose his appetite and start to lose weight. Furthermore, his coat will start to look dry and he may also develop gastrointestinal issues.
When this problem is not addressed quickly, the symptoms may become more severe. Your pooch will start to suffer neuromuscular weakness, heart problems as well as eyesight issues.
Thiamine Dosage in Dogs
The only way to know what dosage of thiamine your dog needs is by first consulting a professional vet about it. They will be able to direct you to particular Vitamin B1 supplements for dogs designed specifically for your dog's breed. In addition, thiamine supplements are administered either as oral tablets, ingestible powder, or injectable solutions.
Conclusion
While thiamine is an essential vitamin in your dog's nutrition, it is really hard to get it to him through his food. For that reason, it is advisable to purchase vet-approved Vitamin B1 supplements for dogs to add to his daily meals.
How to Introduce a Dog to a Cat in 6 Easy Steps
Are you wondering how to introduce a dog to a cat for the first time? Or maybe you are thinking of how to introduce a dog to…Read more