What are the Best Supplements For Rottweilers?
Do Rottweilers need supplements?
Rottweilers are one of the large dog breeds with big bodies and well-defined muscles. They are also very active dogs and need plenty of exercise and high quality nutrition to keep them going.
If you are reading this, you probably have the exercise part covered and are now trying to figure out the best supplements for Rottweilers. If not, then you can check out this article on the best exercises for muscular dog breeds  to get you started.
Which are the best supplements for Rottweilers?
Rottweilers are large muscular dog breeds. Rottweilers come from Germany where they were used as herding dogs.
Rottis lead an active lifestyle, and they will need all the strength and energy  they can get, which they should find, in plenty, in the food they eat.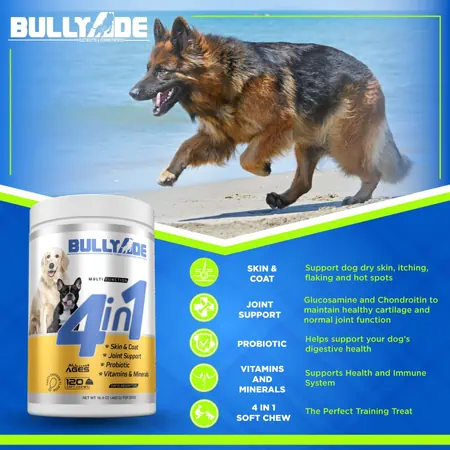 As a rule of thumb, the most important nutrients required by Rotties, in every meal they eat, is proteins. 
The older they get, Rottweilers begin to put pressure on their joint with their heavy body and high energy. It is why most Rotties end up with joint problems like hip dysplasia in their senior years. This already hints that Rottweilers need supplements for their joints too. 
In a nutshell, the best supplements for Rottweilers should help with;
Muscle building
Energy boosting
Joint health
Rottweilers need plenty of proteins to build muscle and strength. Whatever you feed your Rottie, make sure it has all the essential protesins required by dog- it's over 22 of them!
Rotties need an energy boost from the meals they eat too. With over 22 essential amino acids added to your Rottweiler's meal, be assured that your dog is getting enough energy to fuel all their crazy whims. 
Do not forget the BEST JOINT SUPPLEMENTS for Rottweilers. Joint supplements help in;
Renewing joint cartilage
Lubricates the joint and improve joint flexibility 
Slows wear and tear of cartilage
Reduce joint pain and inflammation
Reduce hip dysplasia and progression of other joint diseases.
Bullyade Supplement for Rottweilers
BOGO OFFER
Endless supply of vitamins and minerals

Keeps your Rottie Looking Its best!
Single Bottle
Replenish lost electrolytes
4 in 1 Soft Chews
Vitamins, minerals, probiotics
Bullyade is one of the best supplements for Rottweilers. It packs all the vitamins and mineral supplements for puppies and adult Rottweilers.
Bullyade has over 22 amino acids, which are the essential proteins for MUSCLE GROWTH in Rottweilers. Also, we have a new product, the Bullyade 4-in-1 contains the vital minerals, chondroitin and glucosamine, which are good for your Rottweiler's joint health. Chondroitin and glucosamine work together to rebuild joint cartilage, reduce cartilage degeneration, lubricate and improve joint flexibility. 
Bullyade Best Supplement for Rottweilers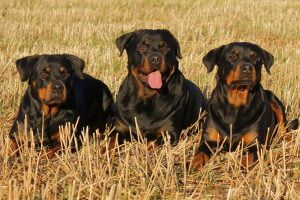 Best supplements for Rottweilers with important vitamins and minerals.