Best German Shepherd Supplements.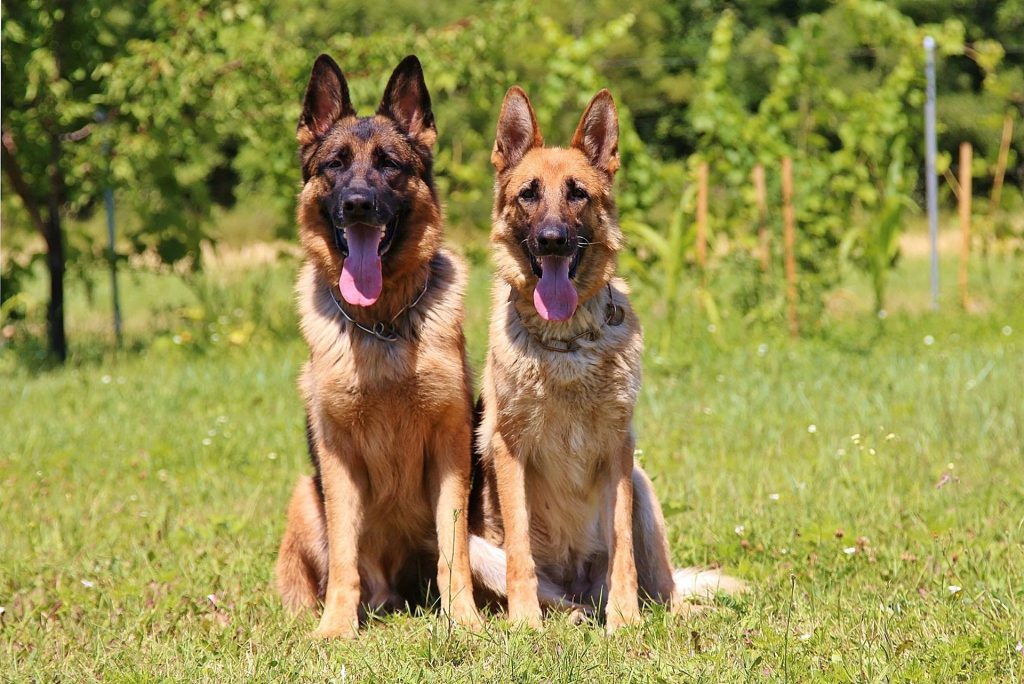 Are you looking for the best German Shepherd Supplements?
You have come to the right page. German Shepherds are lively dogs that lead active lifestyles. With all the running, climbing, and policing these dogs do, they need the best healthcare they can get to maintain their activeness.
Alongside a healthy dog's diet, German Shepherds also need vitamins and mineral supplements for their overall health. 
German Shepherd supplements are essential in boosting IMMUNE SYSTEM, maintaining HEALTHY SKIN & COAT, and promoting JOINT HEALTH.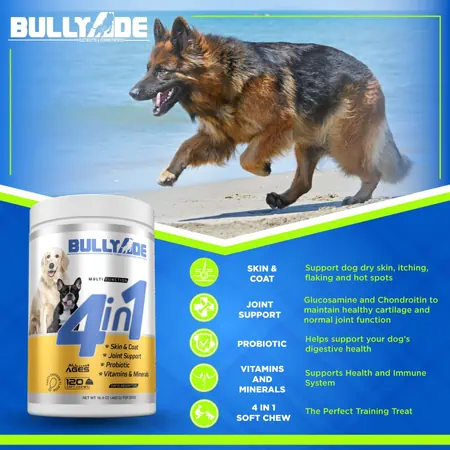 German Shepherd supplements for skin and coat.
All German Shepherd dogs, young and old, require supplements for their skin coat, which is mainly healthy fatty acids. They can get these healthy oils from fish oil which contains high amounts of Omega-3 fatty acids. Another healthy source of Omega-3 is green lipped mussel, which also contains high doses of proteins, vitamins, and enzymes. 
Best Joint Supplement for German Shepherd
With their energetic lifestyles, German shepherd  dogs are prone to joint problems as they grow old. Some common issues affecting a German Shepherd's joint health are joint pain and the more severe hip dysplasia. A GSD that is suffering severe joint paint will have mobility issues and find less interest in any activities that put pressure on the joints. Fortunately, there are German Shepherd supplements that are vital in decreasing joint pain, reducing inflammation, and promoting optimal joint health. Two of these important joint supplements for German Shepherds are Glucosamine and Chondroitin sulfate. 
Glucosamine is a famous anti-inflammatory supplement used widely in arthritis medication. As an organic compound, glucosamine is esseitnal in preventing joint wear and the onset of hip dysplasia in German Shepherds. Glucosamine also helps repair damaged cartilage, the connective tissue that holds bones and joints together. 
Chondroitin works in tandem with Glucosamine to help restore cartilage. Chondroitin is effective in reducing inflammation, alleviates joint pain, and slows the progression of arthritis. Your GSD needs plenty of chondroitin to maintain the natural fluids in the joints known as synovial fluid. Glucosamine with chondroitin is the best combination for maintaining healthy hip joints, reduce the onset of hip dysplasia, and promote overall joint health in German shepherd dogs.
Bullyade Single Bottle
Helps dogs recover from Parvo

Daily dose of vitamins for dog's health
4-in-1 Soft Chews
complete nutrition for your dog

helps your dogs immune system
Raw Diet Recipe Book
Hand-picked raw dog recipes

Quick and easy to prepare

High quality ingredients for optimal dog health
Why Bullyade supplements for German Shepherds?
Bullyade is formulated with important vitamins and minerals for promoting healthy skin and coat, and works as an essential joint supplement for German Shepherd dogs. Our 4-in-1 Soft Chews contain healthy amounts of Omega Fatty acids for reducing inflammation on skin, soothing itchy skin, and helping your GSD fight common skin problems like fleas, ticks, food allergies, and more complex diseases like Mange.
Our Bullyade 4-in-1 Soft Chews also has the minerals Glucosamine and and Chondroitin for reducing joint pain and inflammation, fighting symptoms of dog arthritis, and providing joint support for dogs in their old age. 
When should you give your German Shepherd supplements?
You should start your German Shepherd dog on supplements right from when they are puppies. Puppies need plenty of vitamins and minerals to grow strong muscular bodies, build and strengthen their immune system, and maintain a healthy gut. 
Always give supplements to German Shepherds after feeding them or just before you exercise or indulge them in muscle building activities. It is okay if you give them with their meals, especially if you are dealing with a picky eater. Fortunately, Bullyade supplements for GSD puppies comes in a beef or chicken flavor which your pooch will find irresistible. 
Can you give your German Shepherd more than one supplement?
Absolutely, we do recommend our 4-in-1 Soft Chews and our famous Bullyade vitamins and mineral supplements for dogs as the perfect German Shepherd supplements combo if you want to fortify your dog's muscle and joint health. Our Bullyade electrolyte supplement comes in powder form that can be mixed with food or added to your dog's drinking water- perfect way to hydrate a fussy drinker too!