How to Make Homemade Dog Treats with Bullyade
You don't need to be a top class chef or have sophisticated kitchen equipment to whip up delicious treats for your dog. Here is a quick dog treat recipe that requires zero baking time and includes a secret healthy ingredient; Bullyade. How to make homemade dog treats with Bullyade.
Some Bullyade Inspiration…
The best homemade dog treats are not only delicious but pack plenty of nutrients that benefit your dog. And there are plenty of healthy ingredients to experiment with. Pumpkin, for example, is full of fiber that helps with your dog's digestion and reduces chances of gut problems. Peanut butter is packed with salt, sugar, and fats that taste irresistible to your dog. In addition, peanut butter is filled with healthy proteins that dogs need especially puppies.
Herbs like mint can help with doggy breath. Cucumbers and Brussel sprouts are a rich source of fiber and vitamins for your dog. He may not consume them as they are, but you can hide the ingredients in his favorite homemade treat.
On the other hand, there are foods that taste great to fluffy but are not necessarily healthy or him. For instance, chocolate, contains methylxanthines that may alter your dog's physiological processes. Too much chocolate may cause excessive thirst, abnormal heartbeats, hyperactivity, or tremors to your pup. Onions and garlic not only cause bad doggy breath but may irritate your dog's tummy or cause red blood cell damage.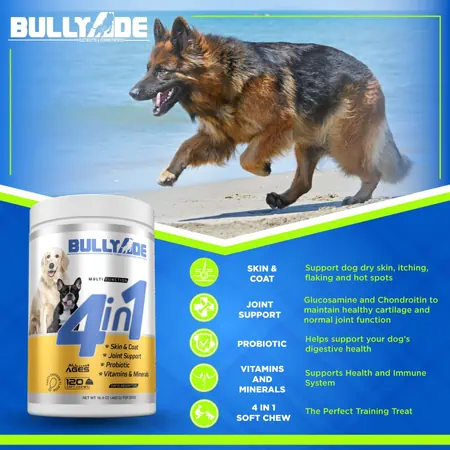 Check with your vet before deciding the ingredients to use in homemade dog treats. However, the recipe below is 100% vet-approved and will greatly benefit your dog's palate and health.
You could have gobbled them up too if it wasn't for the Bullyade.
Ingredients
2 Scoops of Bullyade powder
¼ cup peanut butter
1 cup pureed pumpkin
¼ cup of milk
3 cups whole oats, rolled and divided
Work Station
Mixing Bowl
Cookie scoop
Whisking tool or Electric mixer
Refrigerator
Directions
Warm the milk slightly then add the Bullyade to dissolve in it
In a bowl mix pureed pumpkin, peanut butter and whisk together
Add the milk in bits and continue beating the mixture until properly mix
Add ½ cup oats and continue mixing until they slightly combine with the mixture
Use the cookie scoop to pick up equal chunks of the mix and roll into one half or one quarter inch balls. Continue until the bowl runs empty
Dip the balls in the remaining oats to give them a nice crunchy coat
Line a tray with parchment paper then place the balls
Cover the tray then transfer into a refrigerator and chill for about an hour
You're done! Simple homemade dog treats that are crunchy, have a delicious peanut flavor, and highly nutritious. Just the way fluffy likes it!
Bullyade contains chicken or beef flavors that improves the taste of dog food
Bullyade can dissolve in other liquids too like water and healthy juice for dogs
Bullyade packs electrolytes and vitamins necessary for your dog's health and well-being
Bullyade contains no artificial fillers or additives