Natural Remedies for Dog Joint Problems
Your pooch is likely to suffer dog joint problems at some point in his life. This is true especially for canine breeds that lead an active lifestyle. Luckily, there are natural treatment solutions that can bring joint pain relief to your canine pet. A lot of dogs are being treated for joint problems in their later years. However, it is possible to protect your dog's health joint-wise ensuring they live a happy life.
Causes of Dog Joint Problems
There are two major causes of joint pain in dogs. The first cause of joint issues in dogs is poor body structure development. Some canine pets are more prone to elbow and hip dysplasia compared to others. Cross-breeding of dogs is often a precursor to developmental joint problems.
The other cause of joint problems in dogs is degenerative diseases. A common culprit here is osteoarthritis which can affect dogs of all ages and sizes. However, medical research shows that arthritis in dogs is more likely to happen in large breeds than the small ones. This is because large dog breeds carry more weight which exerts stress on the joints.
Some dog breeds are also predisposed to joint problems than others. In large breeds, Rottweilers and Bernese Mountain dogs are more likely to suffer dog joint pain and other issues. In small breeds, pets like Chihuahuas, Poodles, and Pugs are more susceptible to dog joint problems.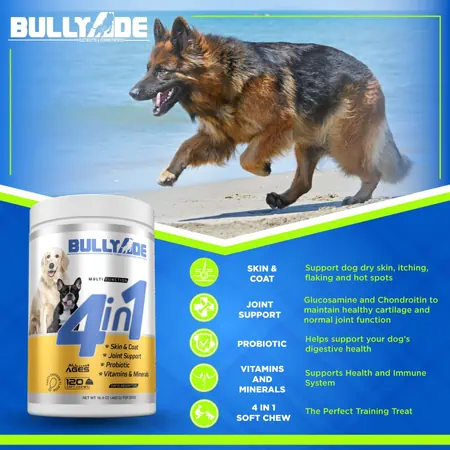 Symptoms of Dog Joint Problems

The first sign of arthritis in your dog will be limping or lameness in his gait. If you examine your pooch's joints, you will notice that they feel stiff and swelling may be present as well. As the disease progresses, muscle atrophy occurs causing slowness in both getting up and moving.
Dog Joint Treatment
Joint pain treatment on dogs will depend on the severity of the problem. In advanced cases, surgery may be required to bring joint pain relief to your pup. On the other hand, there are natural remedies for joint pain in dogs which are handy if the joint problem is not too severe.
One of these organic treatment remedies for dog joint pain is Alfalfa. Besides being a vital nutrient in the development of your dog's body, it also aids in arthritis treatment. A handful of alfalfa per day in your dog's meal is enough to relieve joint inflammation and speed up joint recovery.
Ginger is also great for promoting joint pain relief in dogs. It also aids in proper digestion, reduces intestinal gas and reduces feelings of nausea. Since ginger has a strong flavor it will be a good idea to administer it in small doses. About ½ a tablespoon of ginger is enough for small breeds and a ¾ tablespoon for large breeds.
You can also use Licorice for joint pain treatment in dogs. Licorice contains an effective ingredient, glycyrrhizin, which reduces inflammation and speeds up healing. In addition, glycyrrhizin combines with other herbs as well to boost your dog's immune system.
Best Pet supplements for Dog Joint Treatment

On top of using natural herbs, you might also incorporate pet supplements in your dog's diet. Pet supplements contain useful multivitamins like Vitamin C and Calcium which are great in promoting bone health. Furthermore, pet supplements are also used in joint health therapy treatment that focuses on helping dogs lose weight and increase their body strength. Bullyade helps has 18 Vitamins and Minerals designed to protect your pets health during all life stages. It is the Best Pet Supplement for dogs that are susceptible to Calcium deficiency.
Conclusion
Your pup does not have to be a victim of dog joint problems. You can prevent the onset of arthritis by ensuring your dog is not overweight and that he receives enough nutrients and vitamins to build his bones and muscle.