How to Prepare for a Litter of Puppies
Your pooch is about to become a mom and you cannot help but feel excited after you get your dog from a breeder. Preparations to welcome the new litter are underway and you want to ensure that you get everything right so both the mum and her puppies are comfortable. Here is a convenient checklist on how to prepare for a litter of puppies.
High-quality Diet
For the first four weeks, your dog will need the highest quality dry kibble you can get. This will ensure she has enough nutrients in her to produce milk and also pass some of them to her unborn puppies. What you should be looking for is quality food that is rich in calcium and protein. If your dog is on a raw diet, incorporate plenty of meat and bones in her meals. She will get plenty of calcium in the bones and lots of proteins from meat especially organ meat. If you are wary whether your pooch is receiving enough nutrients, then put lots of emphasis on the second point below.
Pet Supplements
Pet supplements are essential in the gestation period of your dog. She will need plenty of minerals and vitamins which help in producing antibodies that are passed down to the litter of puppies. These antibodies act as protection for the unborn pups against diseases and parasites. Enough multivitamins in your female dog will also help her produce high-quality milk for her young one.
Nursing Box
Your dog will need a safe area where she can nurse her young ones. A nursing box, also called a whelping box, will suffice and it should be large enough for her to be comfortable in. Ensure that your pooch is able to stretch or move in and out of the nursing box with ease. If your dog is one of the large breeds, you will need to include inner protection, in the nursing box, for the puppies. This will ensure the puppies are safe and will not get accidentally squashed by their mum as she lays down. A metal bar enclosure within the nursing box will suffice. One more thing you need to do is make the nursing box warm. Old newspapers make great insulating material. These should be laid on the flow and on the walls of the box before adding a warm blanket on top.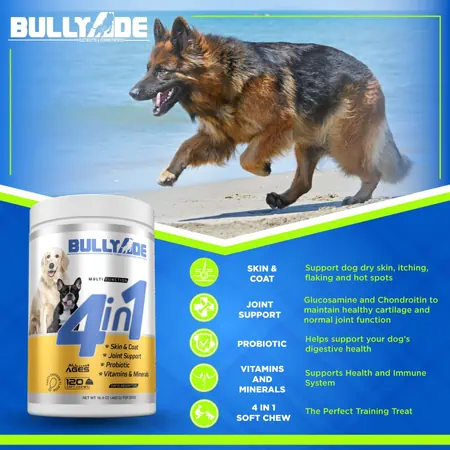 Puppy training area
As the puppies get older, they will start moving around and exploring areas away from their whelping box. It is important that you create a safe area where the puppies can be mobile while remaining safe from harm. Also, this would be a perfect time to introduce a puppy training pad to the litter.
Check for labor signs
Early signs of labor include vomiting, lack of appetite, and restlessness. Your female dog will also need some privacy as she goes to labor. If you have a male pooch in the house, ensure he does not go anywhere near the female one as it goes to active labor. He may get jealous and attack the little ones, and you don't want that.
Conclusion
If you follow the above tips religiously, your pooch should give birth to healthy pups effortlessly. As you serve a high-quality diet to your dog, also you are supplementing her with multivitamins. Also, your dog will need a trip to the vet to get her required shots.
For more in depth information check out this AKC article