Dogs need to stay hydrated, but sometimes they don't drink enough water.
Bullyade is a delicious dog supplement that mixes with water or food and replenishes electrolytes. It's perfect for dogs who are recovering from illness, dehydration, or parvo. Plus it has 18 vitamins and minerals!
Your dog will love the taste of beef or chicken flavor Bullyade and you'll love how easy it is to use! Just mix one scoop in their bowl of food once per day for healthy hydration. You can also add more water if your pup needs more fluids throughout the day. And because it's made with natural ingredients, there are no side effects like nausea or vomiting associated with other products on the market today.  Bullyade is available at pet stores nationwide so be sure to look out for our product when you're shopping next time!
Order some Bullyade now by clicking this link!
Your dog needs a daily vitamin!
Bullyade is the perfect solution for your canine companion. It's an all-in-one supplement that contains 18 essential vitamins and minerals, including Vitamin A, B complex, C, D, E and Calcium. And it comes in a convenient mix to be added to water or other favorite liquid! Skip the big hard to swallow pills with this easy way of getting your pet their daily dose of vitamins.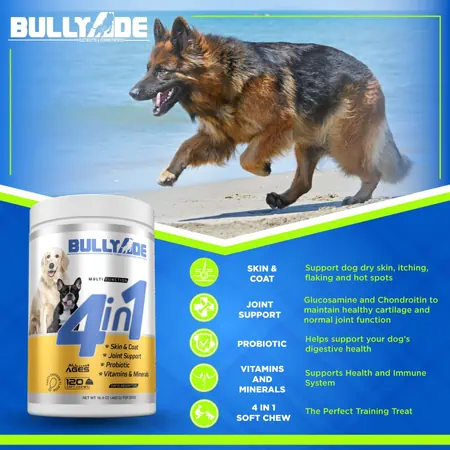 The best part about Bullyade is that it can be used by any breed at any age – both male and female! This one-a-day supplement has everything you need for your pup in one simple mix. So skip those expensive vet visits when they're just going to tell you what we already know – give them some love with something they'll actually eat!
Are you looking for a way to keep your dog healthy?
Bullyade Electrolytes for dogs is the perfect solution. It's a mix of 18 essential vitamins and minerals that are designed to help maintain a healthy lifestyle. This supplement will work well with any breed, age, or gender. You can give it in water or another favorite liquid and skip the big hard-to-swallow pills!
Your dog deserves the best life possible and this product is just what they need to stay happy and healthy! Order today so your pup can be their best self.
Dogs are just like humans and need to stay hydrated.
Bullyade is a refreshing electrolyte drink for dogs that helps replenish fluids in your dog during warm weather or after an illness. This gives your dog the extra nutrients they need to recover faster and more successfully from Parvo and other common viruses. It works to ease the symptoms of Diarrhea, Lethargy, Distemper, and more.
You love your pup so much you want them healthy again as soon as possible! That's why we created this product with all-natural ingredients that will help get them back on their feet quickly!
Order now for an easy way to keep your pup happy and healthy!
Dogs need more than just food to stay healthy
Bullyade is a complete and balanced supplement that provides essential vitamins, minerals, and nutrients for dogs. It's the perfect way to keep your dog happy and healthy all year round.
Give your dog everything they need with one simple solution! Bullyade has everything you're looking for in a vitamin supplement – it's easy on their stomachs, tastes great, and helps them maintain good health. With Bullyade, there are no worries about what your pup is missing out on when it comes to nutrition!
100% MONEY BACK GUARANTEE
Bullyade is a natural supplement that helps dogs with joint pain.
Our product has been clinically proven to be safe and effective for dogs of all sizes, breeds, and ages. We're so confident in our product we offer a 100% money-back guarantee. If you don't see results after 30 days, simply return the unused portion for your full refund!
You can order today and have it delivered straight to your door in just 3 business days or less! Plus, if you order now you'll get free shipping. Hurry before this deal ends!
NATURAL DOG SUPPLEMENT
Bullyade is the best-selling, all-natural dog supplement on the market. It's made with 18 essential vitamins and minerals to replenish electrolytes and regulate body temperature. No wonder it's recommended by vets everywhere!
With just one scoop of Bullyade, your pup will have everything they need to stay well, be healthy, and recover from illness more quickly. Give your pup what they deserve – give them Bullyade!
PRODUCT FEATURES:
Bullyade is a multivitamin supplement for dogs of all ages that contains 18 essential nutrients, including Vitamin D to help alleviate inflammatory symptoms and an integral mineral that helps in bone formation. It's made with natural ingredients like glucosamine, chondroitin sulfate, MSM, and Omega 3 fatty acids which are great for your pet's hip & joint health.
Give your pup the best chance at living a long life by giving them Bullyade today!
Bullyade is the perfect solution for your pup. This supplement provides relief from arthritis and other joint problems, as well as itchy skin and hot spots. It also contains vitamins to promote healthy skin and coat health.
You'll be happy to know that this product is made in the USA by veterinarians! And because it's all-natural, there are no side effects like those seen with prescription drugs. Your pet will feel better in just 3 weeks of use!
Bullyade is a nutritional supplement for dogs that promotes cardiovascular health, macular eye health, and cognitive function.
Bullyade is made with riboflavin, Vitamins A, B, C, D and E to promote cardiovascular health and maintain a healthy brain. It also contains Vitamin D3 which helps support the body's immune system. The ingredients in this product are carefully selected to provide your dog with all of the nutrients they need to live an active life.
You want your pup to be as healthy as possible so they can enjoy their time spent playing outside or lounging on the couch by your feet? Give them one scoop of our high-quality supplement every day! They will love you even more than they already do!
PARVO RECOVERY

–

Parvo is a virus that affects dogs. It can be deadly and it's hard to treat.
Bullyade is the complete multi-vitamin for your dog, designed to promote fast recovery from mal-nourishment, dehydration, vitamin deficiency, diarrhea, helping to rehabilitate from symptoms caused by Parvo, Coccidia, Distemper and Kennel Cough. Comes in two delicious flavors!
We want you to have peace of mind knowing your pup will get the best treatment possible when they need it most. That's why we offer an unconditional 100% money back guarantee if you are not satisfied with our product or service within 60 days of the purchase date. If you're looking for a way to help your pet feel better quickly without breaking the bank – try Bullyade today!
• Keeps your dog healthy and active
• Helps them recover from illness faster
• Provides essential vitamins & minerals
• Comes in a tasty meaty flavor dogs love!• Provides essential nutrients for your dog
• Contains no hard-to-swallow pills that like to make their way back up
• Contains a potent mix of 18 vitamins and minerals
For Amazon, Prime Orders Click Here