Complete Multi-Vitamin and Hydration for dogs (All in One)
Bullyade Natural Dog Supplement 120g/4.2oz (Per Bottle) with 18 Vitamins & Minerals Designed for Dogs. Provides a Quicker Safe Recovery from Parvo, Diarrhea, Dehydration, Heat Exhaustion, Hip and Joint Inflammation, Skin and Coat issues, providing overall health benefits to dogs of all ages. Bullyade is packed full of Electrolytes for Dogs and Vitamins for dogs that are designed for dogs. Mixes with Food or Water, and come in a Yummy BEEF & CHICKEN Flavor.
WHAT YOUR DOG NEEDS
A delicious BEEF or CHICKEN flavored Multi-Vitamin with electrolytes designed for dogs supplement that mixes with food or water. Natural healthy electrolyte replenishment for smoother function of joints and hips with healthier skin and coat. Helps your dog recover more quickly from illness without complications. Just what your dog needs to avoid or recover from dehydration. You get a 45 Day 3.17oz Bottle to help your dog grow stronger healthier and feel better faster.
18 ESSENTIAL VITAMINS & MINERALS
Bullyade Electrolytes for dogs / Vitamins for dogs makes this the ultimate one a day for your dog. Works for all breads, all ages, both male and female. Contains Vitamin A, B complex, C, D, E, Calcium, Magnesium, Copper and many more. All in a convenient mix for food, water, or other favorite liquid. Skip the big hard to swallow pills. No wonder Bullyade is used and prescribed by Vets all over the world. Keeps your dog in great health all year round.
REFRESHING ELECTROLYTES FOR DOGS
Replenish fluids to fully hydrate your dog during warm weather or during or after illness. This gives dogs the extra nutrients they need to recover faster and more increase the chances of recovery from Parvo and other common viruses. This works to ease the symptoms of Diarrhea, Lethargy, Distemper and more.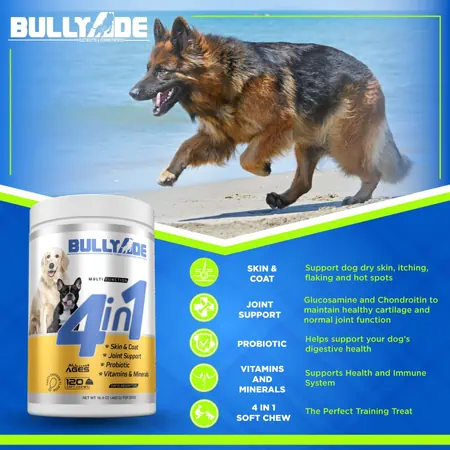 SUPPLIES RICH DOG NUTRIENTS
Many Nutrients are missing in most dog foods. Canine digestive systems also don't always get all the necessary nutrients from dog food. Bullyade electrolytes for dogs and vitamins for dogs is the natural burst of vitamins, minerals, and nutrients to improve health and maintain excellent wellness. Helps return the sparkle to your dog's eyes and the energy to her step. Make sure your furry best friend is getting the improved nutrition he or she needs.
100% MONEY BACK GUARANTEE
Our policy ensures this will be your best bet for a pleasing no-risk purchase. Many people are stocking up with 2 or 3 of these to continue the benefits for months. HURRY AND BUY NOW while we have this popular canine supplement in plentiful supply. It sells quickly. This makes a fine birthday gift, holiday present, or anniversary gift for anyone with a dog!
NATURAL DOG SUPPLEMENT
Packed with 18 essential vitamins and minerals with complete electrolyte replenishment. With Salt, Chloride, Potassium, Magnesium, Calcium, and Phosphorus. Regulates body temperature and prevents dehydration. This gives your dog everything he or she needs to stay well, be healthy, and recover from illness more quickly. No wonder Bullyade is recommended by Vets all over the world, often to help dogs recover faster from Parvo and other viruses. This can help a dog who has been experiencing digestive problems. Builds better health to benefit dogs of all ages, breeds, and both sexes. Each container holds 120g/4.2oz of tasty mix that can go in water. Dogs love it!
PRODUCT FEATURES:
Complete daily nutritional supplement for dogs
120g/4.0oz in each container
Mixes with water or other liquid
Also can be sprinkled on food
Dogs love the meaty flavor!
No big pills to swallow
Filled with 18 essential vitamins & minerals
Rich electrolyte replenishment
Helps dogs stay well with better health
Faster recovery from most illness
Frequently recommended by Vets worldwide
18 IN 1 MULTIVITAMIN FOR DOGS OF ALL AGES – Bullyade is an Advanced Level Multivitamin Powder with vitamin, mineral, and electrolytes.  Packed full of rich ingredients that promote wellness for small, medium and large breed canines.
HIP & JOINT SUPPORT – Bullyade all natural supplement contains Vitamin D to help alleviate inflammatory symptoms an integral mineral that helps in bone formation and general body growth to promote comfort for the hips and joints to help relieve pain and arthritis problems.
SKIN & COAT HEALTH – For dogs with itchy skin or hot spots, this multivitamin contains a blend of Vitamin A and Vitamin E to coat the skin
DIGESTIVE, IMMUNE & BLADDER FUNCTION – Featuring Digestive System Support, Manganese, Iodine, Zinc, Phosphorus, Vitamin A, Vitamin B, Vitamin C, Vitamin D, and Vitamin E support a healthy digestion, the kidney and bladder, and also immune function.
HEART, VISION & COGNITION – Each scoop of Bullyade contains

riboflavin

, Vitamins A, B, C, D, and Vitamin E to promote cardiovascular health, macular eye health, maintain a healthy brain and boost the cognitive function of all dogs

PARVO RECOVERY

–

Complete Multi-Vitamin designed to promote fast recovery from mal-nourishment, dehydration, vitamin deficiency, diarrhea, helping to rehabilitate from symptoms causes by Parvo, Coccidia, Distemper, Kennel Cough, Heat Exhaustion, Heat Stroke and much more. Comes in two Delicious Flavors.