This is why the war between raw diet for dogs vs kibble is a never-ending one. More pet parents are realizing the raw dog diet benefits their beloved pups have been missing out on.
So how do you make sure that your furbaby is eating right to gain healthy weight and not unhealthy fat? Easy, switch him to raw diet for dogs.
Wait. We know, coming up with a raw dog diet plan that works is no walk in the park. Many have tried it and it backfired. And their furry friends did not feel oh so friendly about it.
But you are in luck! The family at Bullyade put on their thinking hats and decided to come up with a comprehensive e-book that touches on all things raw dog diet.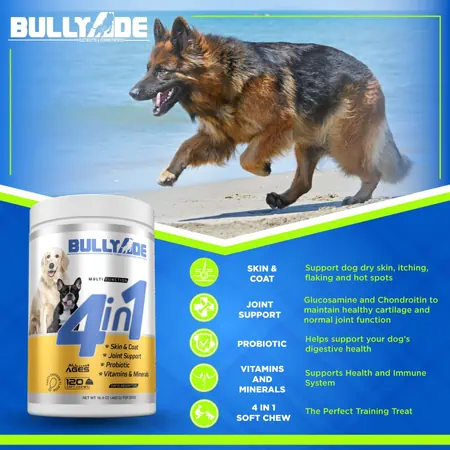 Inside this eBook are all the raw dog diet benefits your pup can take advantage of. What's more, we have put together a list of easy-peasy raw dog diet recipes you can whip up at the comfort of your home.
If you have wanted to plan a raw dog diet menu for your furry friend but did not know where to look for raw dog diet ideas, take a seat, we got you covered.
You are about to learn the real benefits of a homemade raw dog diet that will make ordinary kibble look away in shame.
Just to give you a glimpse, here are some raw dog diet benefits your pup will say a big Yes to;
Fido will be enjoying his raw dog diet with all the nutrients intact
While gnawing down bones, your pup is not only getting the nutrients, he is also sharpening his teeth
You have the freedom to control what your dog eats. Every ingredient you choose will provide specific nutrients to your dog
Raw dog diet is the best if you are raising newborn puppies
You get to throw in healthy fruits and veggies which help with digestion.
That's just the tip of the iceberg.
Are you looking for a raw dog diet on a budget? Do you want easy-to-fix raw dog diet recipes that are packed with high-quality nutrients?
You have come to the right place.
We have made this book fun and interactive. You will enjoy making all the raw dog diet recipes in this book in the comfort of your home.
Make it more fun by finding Fido his apron.
Don't know how much raw food your dog will eat every day? No problem we have a comprehensive table that tells you how much raw dog diet your pup will eat with his body weight in mind.
Do you want to add weight to puppies? Are you trying to wean your adult dog out of boring kibble to something more delicious and wholesome?
Whether you want to fix your dog a full meal or a few snacks on the go, we have it all here. All ingredients used are easily sourced and are ASPCA approved and additives are made in an FDA approved facility.
This raw diet for dogs eBook is more than just a collection of fun raw dog diet recipes. It also serves as a guide on how to source the best ingredients for your pup's raw dog diet plan.
Wondering which raw ingredients have the highest nutrient for your dog? Are you cautious about the human foods that are potentially dangerous to your dog?
You do not have to worry about any of that because we have it all covered in our raw diet for dogs ebook. Rather than go on a wild goose chase, we have narrowed everything down to the only ingredients you need for your furry friend's raw dog diet menu.
Remember,
A dog that eats a healthy diet will live a longer healthier life. This is your chance to let your puppy or adult dog reach its full potential. Within weeks of introducing raw diet for dogs to your pup, you will notice;
They have more energy
They are not falling sick as much
They have a healthy weight
Their caught looks healthy and lush
You are one click away from giving your dog the best life he ever had. And he will certainly thank you for it. But there is a catch.
Rome was not built in a day.
This is not a quick-fix solution to weight loss or weight gain in dogs. You will need to soldier up to ensure you only source fresh ingredients for your pup's raw dog diet plan. You have to be vigilant about what goes into your dog's plate every day.
This raw diet for dogs book is perfect if you are weaning 4-week-old puppies. It is a perfect raw diet for dogs cookbook if your adult dog is underweight and needs to gradually put on weight.
If your dog is already on another diet, do not stop it right away. We advise you to introduce these raw dog diet recipes gradually until he is comfortable with it. Start with a 10%:90% ratio, 10% being the raw diet for dogs.
Gradually increase the raw food portions as you decrease his previous diet. Voila! Your pup is already on his way to a healthy and fulfilling life. So, what are you waiting for? Click the download button and get this eBook right away!
Oh before we go, if you are interested in a mini-cookbook for healthy doggy treats, then download your copy here.