How to Treat Urinary Tract Infection in Dogs
Just like humans, dogs develop UTI infections as well. In this article your will learn how to treat urinary tract infection in dogs and ways you can spot the symptoms of UTI infections in dogs and effectively treat them. Urinary tract infection in your dog can be really painful. Even though your pooch may not show it, he definitely is suffering each time he wants to go. So it is important that you have him checked and treated for UTI in dogs if you notice early symptoms.
What causes UTI in dogs?
Urinary tract infection in dogs is commonly caused by bacteria. The specific strains of bacteria include Staphylococcus, E.Coli, and Proteus spp. Your dog may come into contact with these bacteria from fecal matter or debris. The pathogens will then enter the body via the urethra where they start to colonize.
Normally, your dog's immune system should automatically get rid of any oncoming bacterial infection. However, if your dog has a weak immune system, he will be more susceptible to a UTU. Therefore, you need to ensure that your pooch always has a strong immune system.
Bullyade can help boost their immune system.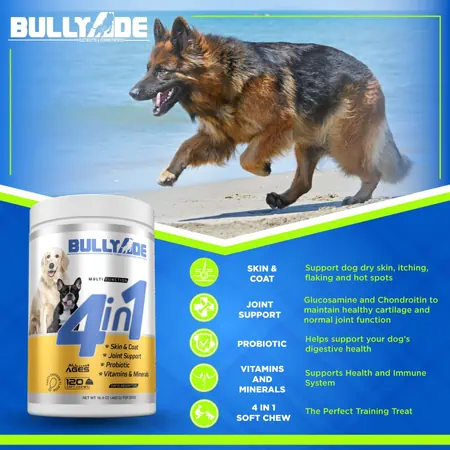 Symptoms of UTIs in dogs
One of the common urinary tract symptoms in dogs is itching around the urethra. You may notice your dog constantly licking themselves on the rear. This symptom is easy to overlook on a female dog that is ovulating. So watch out for symptoms than just itching.
If the bacterial infection grows, the urethra becomes inflamed and passing urine becomes painful. Your pup will start wincing each time they have to go and he may also appear to hold an awkward position while trying to pass urine. In addition, your dog may feel that they need to go all the time and sometimes this can be a false alarm due to the uncontrolled itching.
You may also want to observe your dog's urine. If it appears cloudy and has a strong smell, there is a likelihood the dog has a UTI. Some UTI infections in dogs may also cause your pooch to pass blood in their urine.
UTI Treatment in Dogs
Once you notice the symptoms of urinary tract infection in dogs, you have to take your pooch to see a vet. A urine culture will be done to determine the type of bacteria that is causing the infection. Your vet will then prescribe a series of antibiotics that will help clear the infection.
A second urine culture must be taken to ensure bacteria has been cleared from the urethra. It is important that your dog takes this second test as some bacteria strains do develop resistant to certain antibiotic drugs.
Home solutions for UTI treatment in Dogs
Add two tablespoons of apple cider vinegar in your dog's drinking water. Apple cider vinegar is a natural antiseptic that helps clear bacteria from the body. In addition, give your dog more fluids to help flush bacteria from his system. Your dog will also need multivitamin supplements (especially vitamin C) to help boost their immune system.
Conclusion
To stop UTI in dogs from recurring, always ensure your dog is well hydrated and receives his vitamins. There are pet supplements like Bullyade that pack lots of vitamins that are soluble in your dog's drinking water.