Holiday Dog Treat Recipes
The holiday season is right around the corner. With endless opportunities to munch and gnom, it is easy to lose track of what you are feeding your dog. Fortunately, we have put together ten-holiday dog meals that allow Bingo to enjoy the festivities too…in a healthy way.
After everything that has happened this year, we deserve every bit to celebrate the upcoming festivities. No doubts you are thinking of plans for Halloween, Diwali, Thanksgiving, Hanukkah, or Christmas. Heck, we may even add Black Friday and Cyber Monday to our list of holidays.
And you know who does not get left behind in these festive days? Our beloved furry friends. We love them and would love to share the festivities with them. Including what we are serving on our tables.
While some human foods are perfectly okay for our dog, others may not be as nutritional and can cause more harm than good. But we won't dwell so much on the negatives.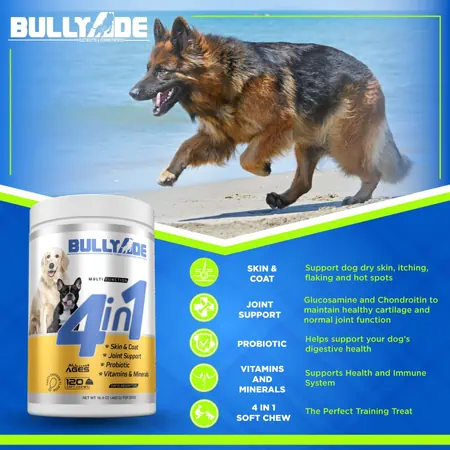 We will keep it about the delicious Christmas meals you and Bingo can share. Stick to the ingredients suggested here and you will never worry about your dog's health as he indulges in these goodies.
1. Pumpkin balls  dog treats

If you have lots of pureed pumpkin in your pantry, you can spare a can or two for this recipe. It is perfect comfort food and a healthy source of fiber for dogs or puppies that are constipating or have a runny stomach. If you are trying to wean your dog into a new diet, these pumpkin balls are a good place to start. And of course, some Bullyade dog supplements to seal the deal completely!
Ingredient
Two cups of whole wheat flour or oat flour
A can of pureed pumpkin. A cup of freshly pureed pumpkin works too
Two scoops of Bullyade dog supplement
Two tablespoons honey
Two teaspoons flax seed (ground)
Quarter teaspoon sea salt
One egg
Three scoops of Bullyade
Quarter teaspoon ground cinnamon
Method
Preheat the oven to 350 degrees farads. Add all ingredients to a bowl and mix. Use a cookie or ice cream scooper to scoop out chunks of the mix onto a tray. Let the chunks chill in your fridge for 10 to 15 minutes. Cut the chunks in half and roll into tiny pumpkin balls.
Place the pumpkin balls in the oven and bake for 20 minutes. When the goodies brown, bring them out to cool before serving your dog. 
Cooking tip: Smaller pumpkin balls cook faster
2. Bison Jerky for dogs

Bison has fewer calories (166 vs 224 in beef) and more proteins (24 grams vs 22 grams in beef). Bison meat also contains plenty of vitamin B12, zinc, Omega 3, iron, and Selenium. Alternatively, lean beef and Bullyade powder combo will provide the same level of nutrients (or more!).
Ingredients
4 pounds of Bison meat
2 scoops Bullyade
Any pup-friendly spice of choice
Method
Preheat your oven to 200 degrees farads. In a food processor, puree the bison meat. Pour the contents into a large bowl and add Bullyade. For spices, you can add basil, oregano, ginger, turmeric, or parsley which are all dog-friendly. Mix the contents then scoop equal bits onto a baking tray with parchment paper.
Use a spatula to spread out the meat on the tray. Toss tray in the oven and bake for two hours. Remove the tray and slice the meat into equal strips. Flip over the pieces and back into the oven again. Continue baking for at least three hours. Leave the jerky in the oven to dry and harden.
Baking tip: Spread the meat extra flat to speed up the drying process. Leave the oven door partly open to let out excess moisture. Dab the jerky with a kitchen towel when cooking to speed up the drying process.
3. Yummy Turmeric Gummies treats for dogs

Dogs too can have some yummy gummies filled with healthy turmeric. Turmeric has anti-inflammatory properties that can help alleviate or prevent arthritis in dogs. We also threw in some ginger to reduce bloating and coconut milk to boost the immune system. Coconut milk helps with bad breath too.
Ingredients
A can of coconut milk
A teaspoon of turmeric
Half teaspoon of cinnamon
A quarter teaspoon of ginger
A tablespoon of coconut oil
Half a teaspoon of black pepper
Two scoops of Bullyade powder
Two tablespoons of honey
Method
Pour the coconut milk into a saucepan and add the spices. Turn on the stove and whisks the mixture as it heats up. Continue heating on medium heat for 10 minutes while whisking. Remove the saucepan from the stove and add the coconut oil, Bullyade, and honey. Whisk one more time then let the mixture cool. Pour in silicone molds and chill for 30 minutes.
Let your pup munch on a few gummies. You can make the gummies harder by adding three tablespoons of honey.
4. Bullyade Gravy
Is your dog a finicky eater? No problem, you can make a quick Bullyade gravy and add to his dry kibble. This tasty gravy can work as a dog supplement for homemade food as well. And it only takes less than twenty-five minutes to make.
Ingredients
One cup plain water
2 scoops of Bullyade (Chicken or Beef)
One tablespoon of cornstarch
Method:
In a small bowl, mix cornstarch with a tablespoon of water to make a thick paste. Warm the remaining cup of water and slowly add the cornstarch while stirring. Add the Bullyade powder and continue stirring to a slightly thick slurry. Pour the slurry onto your dog's kibble and watch him eat. The chicken/beef flavor is an instant appetizer for your dog.
5. Turkey and honey dog treats

Here is a fun way to share the thanksgiving turkey with your pup. Make sure the skin and fatty trimmings are removed as they contain loads of unhealthy fats. Turkey, like chicken, has enough proteins for puppies and adult dogs. But there is nothing wrong with sprinkling a little Bullyade goodness to fortify your pup's protein needs. Go with the chicken-flavored version to enhance the turkey's natural taste. Oh, we also use honey instead of processed sugar. Honey contains plenty of vitamins and minerals for your dog.
Ingredients
One turkey leg or breast (2.5 pounds)
A cup of chicken broth
A pinch of rosemary
Two tablespoons of butter of butter
Three tablespoons organic honey
Two scoops Bullyade (chicken flavor)
Three tablespoons oat flour
Method:
Heat the oven to 350 degrees. Cover your baking tray with aluminum foil. Add the rosemary, a tablespoon of butter, and honey in a small bowl and whisk together. Rub the spice blend generously on the breast and place it on the baking tray. Toss the tray in the oven and slow roast for about an hour.
In between roasting, take the tray out and rub more spice blend and toss it back in the oven. After an hour, check the temperature of the turkey leg with a meat thermometer. A temperature of at least 164 degrees farads means the turkey has cooked through.
Place the turkey breast on a baking dish, or a different tray, and cover it. Pour the drippings left on the baking tray onto a saucepan or skillet. Add the oat flour and Bullyade powder and simmer while stirring the mix. Add a tablespoon of butter and continue simmering until the mix thickens. Voila! Your pup has a nutritious side of gravy to go with the juicy turkey breast.
Bathe the turkey breast with the gravy before letting your dog gobble it up. For small breeds, shred the turkey meat into nibble-size pieces. Also, take away the bone to prevent the dog from choking.
6. Sweet potato cookies for dogs

What delicious way to give your dog more fiber this festive season than with sweet potato cookies? What's more, your pup can indulge however he wants without putting on too much weight. Sweet potato has a lot of vitamin A too which is good for your dog's coat skin, and muscles.
Ingredients
Two tablespoons of honey
One cup pureed sweet potato
A quarter cup of oat flour
A teaspoon of baking soda
Two to three scoops of Bullyade
A cup of water
Method:
Preheat your oven to about 350-degree farads. Add the oat flour, Bullyade, and baking soda in a bowl. Mix them thoroughly then add the pureed sweet potato and honey. Slowly add the water as you knead the mix into a fine dough. Roll the dough on a flat surface. Cut the dough into various shapes using a cookie cutter.
Place the cut dough on a baking tray lined with parchment paper. Bake in the oven for 15 minutes until the cookies brown. Serve your pup a treat and save the rest for later. Feel free to vary the recipe with healthy pup-friendly spices like turmeric.
7. Carrot pupcakes dog treats
The perfect dessert for a Halloween or Thanksgiving dinner. These carrot pupcakes have enough sugar to keep Bingo licking and not too much to cause obesity or canine diabetes. And guess what? These pupcakes easily convert into mini carrot cake bites for humans.
Ingredients
Two cups carrots
Two cups oat flour (or all-purpose flour)
Half cup organic honey
Half cup plain yogurt
Three eggs
A teaspoon ground cinnamon
A teaspoon baking powder
Two scoops Bullyade supplement
Method:
Preheat the oven to 350 degrees farads.  Grate the carrots or shred them in a food processor. In a bowl, add the shredded carrots, organic honey, yogurt, and eggs. Whisk until finely mixed. In a different bowl, mix the oat flour, cinnamon, and baking powder. Add the dry ingredients to the wet ones and mix one more time.
Scoop even amounts of the mix into oiled muffin tins. Ensure the muffin tins are filled to the brim and scoop away any excess. Place the muffin tins in the oven and bake for 25 minutes until they brown. Smaller muffins can be for at most 15 minutes.
Take the tins out of the oven and allow them to cool. Feed Bingo a muffin and watch him devour it with gusto.
8. Ham, eggs, and a bit of spinach dog treats

Besides sweet potatoes, spinach is another great source of fiber for your pup. To spruce things up, add some eggs and ham for the needed proteins. If you have puppies running around your home, treat them to this ham-egg-spinach combo this Christmas.
Ingredients
One and a half cups of cooked ham (chopped)
6 eggs
One and a half-chopped spinach
Two cups of bread crumbs
Half cup of extra-virgin olive oil
Half a teaspoon sea salt
One scoop of Bullyade
Method:
Preheat your oven to 350 degrees farads. Mix all ingredients in a bowl.  Line your baking tray with parchment paper. Use a spoon to scoop equal amounts of the mix onto the baking tray. Bake the goodies in the oven for 30 minutes until they brown.
When the goodies have cooled off, allow your pup to indulge. Keep the remaining treats refrigerated to prevent molding.
9. Oven-roasted carrots for dogs

They are moist, crunchy, and very nutritious for your dog. They can be eaten as snacks or served as accompaniments for Thanksgiving and Christmas meals.
Ingredients
2 lbs. carrots (washed)
2 tbsps. olive oil
1 scoop Bullyade
1 cup chopped parsley
¼ teaspoon ground black pepper
Method
Preheat the oven to 350 degrees farads. Peel carrots and cut them in half (or quarter if large). Dip the carrot slices in olive oil then place them on a baking tray (add parchment paper).  Sprinkle black pepper and Bullyade before tossing in the oven. Bake for 20 minutes until tender and crispy. Garnish the carrot stick with parsley then let your dog enjoy them.
10. Ginger doggy treats
These ginger bites are a lifesaver for a flatulent dog. Add cinnamon to help with blood pressure We also threw in some cinnamon to help with blood pressure and weight reduction. Some honey to sweeten the treats and also support your dog's gut health.
Ingredients
Two Cups oats flour
Three tablespoons honey
A cup of water
Half cup coconut oil
Three tbsps. ground ginger
Two teaspoons cinnamon
One scoop Bullyade
Method:
Set your oven to 350 degrees farads. In a large bowl, add coconut oil, honey, ginger, Bullyade, and cinnamon. Whisk them into a fine mix. Add water and continue mixing. Add the oat flour in bits and mix until the dough thickens. Knead with your hand to get rid of lumps and ensure the dough mixes through.
Sprinkle flour on a flat surface and roll out the dough. Use a cookie cutter of the desired shape to cut the dough. Line a baking tray with parchment paper and place the cut dough. Toss the tray in the oven and bake for 35 minutes or until the ginger treats brown. Let your dog have a treat or two after every meal to help with gas.
Finally
It is easy to get caught up in the festivities and forget about your dog's healthy feeding schedule. Plan with these simple, delicious, and nutritious meals for your dog. If your dog is not getting enough nutrients, consider adding a dog supplement for homemade dog food like Bullyade.