According to a 2016 pet health report, the cases of diabetes in dogs was rising by a whopping 80%. What's more, Type 1 diabetes, which affects canines more than cats, is directly linked to obesity in dogs.
This means that if your furry friend is not on a proper healthy diet, they are vulnerable to Type 1 diabetes in dogs. Sadly, a lot of pet owners are oblivious to the fact that their canine companions already have this condition.
What are the symptoms of Type 1 diabetes in dogs?
The two common symptoms of diabetes in dogs are;
Excess thirst (polydipsia)
Excessive urination (polyuria)
Your dog will start drinking water a lot and too frequently. You may also notice your pup wanting to go out a lot of 'accidents' around the house even with proper training. Other symptoms you should watch out for include;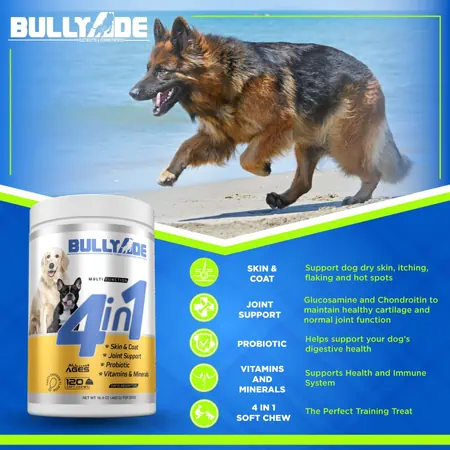 Overeating without weight gain
Rapid weight loss
Canine depression
When the condition progresses, your pooch will start vomiting frequently and their appetite for food disappears. The dog's body continues losing energy as they lack insulin which is required to process and absorb sugar from carbohydrates.
When you notice any of the above symptoms in your dog, it is time to take your dog to the vet. A urine analysis will help determine if your pup has Type 1 diabetes for dogs. If a dog has diabetes, there will be little to no evidence of glucose and ketone in their urine.
If your dog tests positive for Type 1 diabetes, it is not the end of the world. Though a few lifestyle changes have to be made, it is still possible for the pup to lead a normal healthy life. You just have to come up with the right nutrition diet and daily activities to keep the dog healthy and fit.
The best diet for a type 1 diabetes in dogs
When deciding the best food for your diabetic dog, you have to consider what foods to increase and which ones to get rid of. In a nutshell, dogs with diabetes need a diet that is;
High on fiber
Low on calories
Low on sugars
Low on fats
With that in mind, here is how you can map out the best diet for your diabetic dog.
Best High Fiber Diet for diabetes in dogs
Fiber is necessary to help regulate blood sugar levels. Since a diabetic dog cannot produce insulin to regular body sugar, they will need fiber from various foods to remain healthy. Great sources of fiber for a diabetic dog include;
Wheat Germ packs lots of fiber for a diabetic dog. This wholesome food also contains Vitamin E and Folic acid which are absorbed directly into the dog's body.
Carrots are a rich source of fiber and vitamin A for dogs. This vegetable also contains vitamin B6 and vitamin K which are vital for dogs with type 1 diabetes.
Flaxseed is an ideal source of insoluble fiber for your dog. Alternatively, flaxseed is milled to get rid of its hard shell and make it soluble for easy absorption. Milled flaxseed helps with your dog's digestion and promotes a healthy gut. This healthy seed also contains minerals such as calcium, magnesium, and phosphorus.
Broccoli is a healthy vegetable in the cabbage family. It is a rich source of fiber that helps digestion and regulation of body sugars. Also, broccoli is rich in healthy vitamins such as B vitamins, vitamin B, vitamin A, Vitamin K, and vitamin C. This vegetable is also a healthy source of minerals like phosphorus, choline, and copper.
Pumpkin is not only loved by humans, but some dogs also love to nibble on this healthy squash. You can add pumpkin into a dog's meal or use it to make healthy pumpkin treats for dogs. Pumpkin is low on carbs and rich in proteins, vitamins, and minerals.
Dogs love the crunchiness of apples too. Apples are a rich source of vitamins for a dog with diabetes. You can let your dog eat apple slices or fix some tasty apple doggy treats for them. Ensure you remove the core because the seeds are toxic to dogs.
The best Commercial dog food to manage diabetes in dogs
Lots of pet stores stock up on quality brands of diabetes dog food. All it takes is finding the best brand that works with your dog. With commercial dog food, expensive does not always equate to nutritious. Always find out what ingredients go into making the specific dog food brand you want to buy.
Some vets endorse particular brands of diabetic dog foods. Find out what ingredients go into those specific brands and why the vet is endorsing them. You can always use those ingredients to find a similar but cheaper brand of diabetes dog food.
Best homemade diet for diabetes in dogs treatment
Another way to control the carbs and calories going into your dog's diet is through homemade meals. A lot of pet owners shy away from this option because of the time and money that goes into preparing the diet. But with lots of inspiration from the internet and love for your beloved pup, you can come up with exciting recipes in minutes. Just remember to keep it low on fats and carbs while high on fiber.
Best raw diet for diabetes in dogs treatment
A raw diet is a sure way of getting rid of calories and unhealthy fats altogether. Also, feeding your dog natural foods reduces digestion time which is great for a dog with diabetes. A raw diabetic dog diet is also kind on your dog's liver as it eliminates artificial additives and chemicals.
Best healthy treats for diabetes in dogs natural treatment
Avoid commercially made dog treats if your dog has a problem digesting and absorbing sugars. Instead, focus on homemade dog treats that are nutritious and low on unhealthy ingredients. Pumpkin and sweet potato are great ingredients for whipping up tasty dog treats.
Best supplements for diabetes in dogs
Ask your vet about pet supplements before giving them to your diabetic dog. Possible ingredients to target in pet supplements include vitamin E, Vitamin B6, magnesium, and chromium.
Vitamin E helps preserve the integrity of vitamin A as well as omega 3 fatty acids. This vitamin is also essential in reducing insulin dependence. Vitamin B6 prevents neuropathy a disease that causes numbness of the nerves. Chromium improves insulin absorption and utilization. It also helps balance cholesterol levels in a diabetic dog. Magnesium helps reduce the loss of important minerals through polyuria (excess urine).
When your vet approves your dog's intake of supplements, find out if there are supplement brands that incorporate all these ingredients.  A good supplement for dogs is Bullyade which packs over 22 vitamins and minerals required by dogs.
Bullyade not only packs vitamins B6 and vitamin E, but it also contains bonus vitamins like D, E, C, and the remaining B vitamins (B1, B2, and B12). Also, Bullyade supplement packs additional minerals such as zinc, niacin, iodine, manganese, and iron.
Exercise is important for diabetes in dogs treatment
Exercise reduces a dog's dependence on insulin. Pet owners are advised to keep their dogs on a low-calorie diet and increase activity levels to quicken the recovery of diabetic symptoms in dogs.
Start by taking your dog out for walks every day. Schedule walks early in the morning or late in the evening. Taking walks not only exercises your dog, but it also allows them to relieve themselves while out and about. This will reduce the number of 'accidents' your pup has in the house.
Note that a dog with diabetes has low energy levels because of the low sugar in their blood. Always make walks brief to prevent them from wearing out quickly. If you notice your dog trailing behind, panting, limping, or wheezing, let them stop and rest. Also, note that extreme heat causes problems in blood sugar regulation. When it gets too hot outside, it is time to take your pup home.