It is that time of the year when we are stocking up goodies for our furry friends. As malls and pet stores run crazy discounts on pet food, we thought it best to bring you some of the best doggy treats finds on the market. Here is a comprehensive list of the 5 best healthy dog treats you should get your pup for 2022.
The best healthy ingredients in doggy treats
What should you look for in a doggy treat? With Halloween coming up, and many other festivities in the pipeline, it is pretty easy for our pups to gain unnecessary weight from all the junk we feed them. Granted, you want to celebrate your furball for being the best company while working from home. But how about spoiling your pup with a tasty treat without worrying about the unnecessary calories going into their bodies?
Find out the ingredients used in your dog's favorite treat. There is nothing wrong with switching things up if the previous treats did not have enough nutrition value. As a rule of thumb, always consider treats as a part of your dog's diet; they should therefore have the healthiest options for ingredients, just as your dog's healthy diet.
Also to bear in mind is that a lot of doggy treats out there have poorly balanced nutrients. Some treats will have lots of fats to entice dogs to eat more (dogs love fatty and salty foods). Other treats may contain ingredients that are healthy for humans but bad for dogs. Great examples are chocolate, raisin, apple seeds, and artificial sweeteners like Xylitol. You can see a full list of human foods that are harmful to dogs here.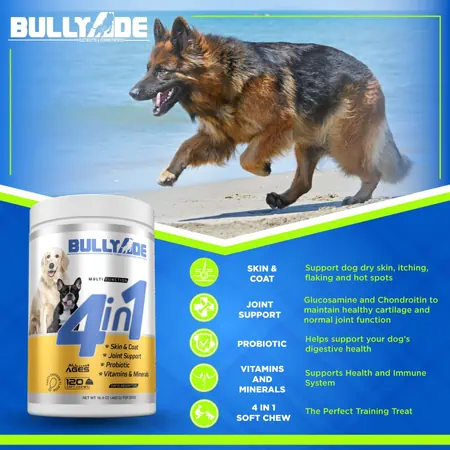 To be safe, always go for dog treats that are approved by the FDA and ASPCA (American Society for the Prevention of Cruelty to Animals). Also, opt for healthy dog treats that come with an AAFCO (Association of Feed Control officials) because these have the recommended nutritional balance in treats. Steer clear dog treats that contain grains or grain fillers that add no nutritional value to your dog.
With that said, here is our full list of the best healthy dog treats to buy in 2022!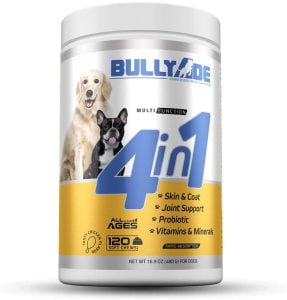 We recommend Bullyade 4-in-1 soft chews for puppies. It is made with organic ingredients that are marked safe for pets to consume. Notable ingredients in the soft chews are brewers dried yeast, dried shellfish digest, flaxseed, dried potato product. Brewers dried yeast is the active source of B vitamins (B1, B2, B3, B5, B6, and B12) which are essential for promoting healthy eyes, skin, hair, and organ function. Brewer's yeast can help manage anxiety in dogs too.
Dried shellfish in the soft chews for puppies contains proteins for healthy muscles and Omega-3 for reducing inflammation and risk of illness. Flaxseed contains anti-inflammatory ingredients for easing arthritis symptoms, improving kidney function, and decreasing blood pressure. Also, flaxseed is a rich source of Omega 3 for healthy skin and coat. Omega 3 in Bullyade 4-in-1 soft chews reduces dry flaky skin, incessant itching, and excessive shedding. 
For joint support, these soft chews contain Chondroitin sulfate, an ingredient for fighting inflation and reducing joint pain. Also, Bullyade vitamins and minerals soft chews contain glucosamine, a natural amino acid that reduces bone friction, renews cartilage and alleviates symptoms of arthritis.
Bullyade 4-in-1 healthy dog treats have a natural chicken flavor that dogs love. As a recommended doggy treats for 2022, Bullyade soft chews are ideal for rewarding puppies during training or for maintaining healthy joints and bones in older dogs. This product also contains the probiotic, bacillus coagulans, which helps dogs fight tummy bugs or recover from diseases like parvo that cause vomiting and diarrhea.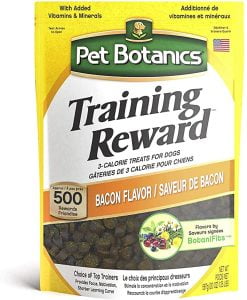 If you have always looked for a great training treat for puppies and mature dogs, look no further than Pet Botanic training chews. This one made it to the list of healthy dog treats 2022 because of its low caloric content and having the meaty flavors of bacon and salmon.
Pet Botanics training chews are great for motivating dogs or keeping them focused during training. The low calories in each treat allow for repetitive training without worrying about unhealthy weight gain in your dog. Also, all Pet Botanics chews are formulated with the company's signature fruit and herb blend.
These chews contain rosemary which acts as a preservative and anti-carcinogenic agent. You also get blueberries and cranberries as antioxidant ingredients that add fiber and boost the immune system. Other notable ingredients are dandelion which aids digestion and peppermint for freshening the breath.
As a bonus, Pet Botanics uses ingredients like Chamomile to make calming treats for dogs. They also throw in some Yucca schidigera (Mojave Yucca) extract for joint health, inflammation reduction, and reducing the smell of ammonia in urine.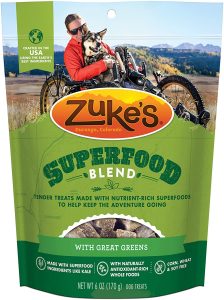 Are you looking for healthy dog treats for your pup with zero meat in them? Zuke's vegan chews are a great place to start. It contains leafy greens such as kelp, spinach, kale, cabbage, and broccoli. These are rich sources of fiber for a dog that is on a vegan or bland diet. Also, Zuke's vegan chews are rich in healthy ingredients such as oats and alfalfa.
Gelatin adds some sweetness to the treats while rosemary acts as a natural preservative. Also, rosemary has cancer-fighting properties and helps reduce inflammation. This product contains turmeric as well which is a natural anti-inflammatory for dogs. Zuke's superfood blend chews also have cinnamon which fights inflammation, reduces the risk of obesity, and slows down disease-causing bacteria.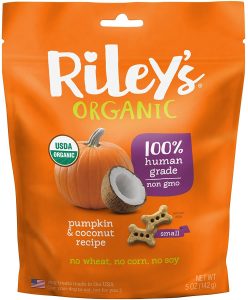 This healthy dog treat from Rileys combines two superfoods that dogs find irresistible; pumpkin and coconut. Pumpkin for dogs is a high source of fiber and is easily digestible. Pumpkin regulates the digestive system and is best for dogs that are suffering from diarrhea. Also, the pumpkin in these treats helps balance the water content in a dog's tummy.
Other pet-friendly ingredients in Riley's healthy dog treats are oats, peanut flour, and coconut oil. Oats are a high source of fiber and aid in digestion. Also, oats contain lots of plant proteins, B vitamins, and the mineral iron.
Rileys organic chews are free of ingredients that do not add value to your dog. This product does not contain wheat, soy, or corn. It is manufactured in an FDA-approved facility and uses the best human foods approved for dogs. Each pack of Riley's chews contains pint-sized bites that are ideal for small breeds although large dogs love them too.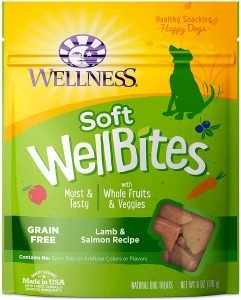 How better to celebrate your dog's 90th birthday (in dog years of course) than to appreciate them with healthy dog treats made just for them. This tasty treat has both lamb and salmon flavors, which gives any senior dog the best of both worlds. Every chew is soft and moist enough to chew and vets recommend it for older dogs with chewing challenges.
Wellness sourced the best natural ingredients to make these healthy dog treats for older canines. Unlike commercial treats that use meat by-products, these soft Wellbites are made with real lamb and salmon. Each treat has loads of antioxidants from apples and blueberries. In addition, Wellness soft chews for older dogs contain sweet potatoes as healthy fiber for dogs. If your senior furball loves veggies, they will benefit from the carrots and chickpeas used in the product. Wellness lamb and salmon dog treats do not contain artificial flavors, gluten, corn, or grain.
Conclusion
When shopping for healthy dog treats for your pup this season, be vigilante about the ingredients used in the treats. Find doggy treats that are of the right size for your dog and ensure they carry nutrients that your dog needs. Determine if you will be using the treats as a training reward or for keeping your dog healthy in their senior years. Also, check with your vet first before starting or switching your dog to a new healthy dog treat.
I am a dedicated and highly experienced professional content writer and SEO expert. With a passion for creating compelling content and a deep understanding of the latest SEO techniques, I have helped numerous small businesses reach new heights of success.
My expertise lies in crafting engaging and optimized content that not only boosts website rankings but also drives meaningful conversions. I am well-versed in conducting in-depth keyword research, analyzing competitors, and determining the most effective SEO strategies for each unique business.
 I am ready to bring my expertise to your team and help you achieve your digital marketing goals.
Find me on;
Website: https://digitalmarketingchap.com/
Email: hello@digitalmarketingchap.com