Niacin (Vitamin B3): A Vital Pet Vitamin
Niacin or Vitamin B3 is an important vitamin that is beneficial to pets. Both cats and dogs need this vitamin for proper body function and health.
Niacin for dogs occurs naturally in food but you may also choose to supplement your dog's daily intake of the mineral.
You can get this vital mineral through proper dog supplements.
Vitamin B3 occurs in two forms; niacin and niacinamide.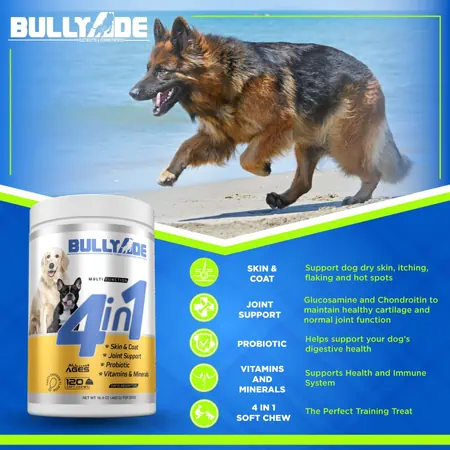 What you need to supplement your dog with is niacin as it has benefits even in high doses.
However, there also has been a concern about high niacin doses causing liver inflammation in pets. Nevertheless, following the proper daily dose of niacin will improve your dog's health without any side effects to worry about.
Source of Niacin
Niacin is found in foods such as meat and vegetables.
For pets, organ meat is the richest source of niacin with the liver being top on the menu.
Vitamin B3 is also present in beef, fish, and poultry.
Quality dry kibble is also packed with healthy amounts of niacin for your pup.
Two portions of dry kibble a day is enough to serve toy or pedigree dogs with enough vitamin B3. For large dogs, two to three portions of quality dry food should be enough for adequate intake of niacin.
Benefits of Niacin in dogs
Effective metabolism
Niacin is a core vitamin that helps in the breakdown of fatty acids by pets.
When your dog is properly digesting healthy fats he ends up with healthy skin and a nice glow on his skin.
Vitamin B3 is also essential in helping your dog convert fats and carbohydrates into sources of energy.
This is important especially for active dogs that need a lot of energy for exercising and playing.
Cognitive function
Your dog needs enough niacin in his body to boost his mental capacity.
A nourished brain is essential to help him remember and learn new things every day. It should also make training him easy as he grasped things faster.
Hormone Synthesis
Niacin is important for hormonal secretion in dogs.
It catalyzes the production of antidiuretic hormone or vasopressin which promotes the optimal functioning of kidneys. Secondly, vitamin B3 triggers the production of corticotrophin-releasing hormones.
These are the hormones that trigger the release of corticosteroids which help your dog cope better with stress.
A third important hormone in your dog is oxytocin which aids in the production of milk.
Vitamin B3 is also essential in the production of growth hormones in your dogs. These are the hormones that will help your pooch develop into a strong and well-mannered adult dog.
A healthy digestive tract
Niacin controls the production of stomach acids and bile in pets.
These two elements help in the digestion of food as well as destroying harmful bacteria in the digestive tract. Enough levels of niacin also help maintain an optimal pH level in your dog's digestive tract.
Conclusion
Your pooch will need about 13 mg of niacin a day to maintain a healthy and active lifestyle.
If you are feeding him quality dry food or a raw diet, then he should be getting the right amounts of vitamin B3 in his body. Should you feel the need to boost his intake, you can do so with pet supplements that contain niacin.