BULLYADE 4-IN-1 SOFT CHEW Perfected Vitamin Health Support for dogs
Bullyade 4 in 1 soft chew has been formulated as a safe and effective pet supplement for all dogs. Each bottle has adequate amounts of vitamins & minerals for joint support and healthy organ function. This soft chew was designed to help all dogs owners; from training their young puppy with a healthy training treat, to ensuring their old best friend is receiving all the hip and joint support possible.
SKIN & COAT- Bullyade 4-in-1 Soft Chews for Dogs fight common allergy-related skin and coat issues like dry flaky skin, excessive hair loss, and recurring itching. Our skin and coat supplements for dogs contain Omega fatty acids for reducing inflammation and soothing itchy skin. Also, this dog supplement for itchy skin and coat is recommended for dogs with food allergies, yeast infection, fleas and ticks, environmental allergies, and for reducing the symptoms of canine mange.
JOINT SUPPORT- Each chew has loads of calcium for strong bones and healthy bone mineral density. Your pup also benefits from Glucosamine which restores cartilage, prevents bone friction, and improves symptoms of canine arthritis. Chondroitin sulfate in each chew fights inflammation and reduces joint pain, especially in older dogs that need extra joint support.
PROBIOTIC- Bullyade 4 in 1 Soft Chew for dogs is good for your dog's tummy. It contains Bacillus coagulans, a probiotic pet supplement for a healthy gut. Our Soft Chews dog supplement is suitable for dogs that are fighting a bug in their tummies or recovering from diarrhea.
VITAMINS AND MINERALS –Vitamins and minerals help keep your dog's skin soft, coat shiny, and joints healthy. Bullyade 4 in 1 Vitamin Dog supplement has B vitamins (B1, B2, B6, B12) that boost motor and brain functions. B vitamins also help convert healthy fats into energy, blood cell production, breaking down proteins, and improving digestion. In addition, Bullyade 4 in 1 Soft Chew for dogs contains vitamin A for healthy body organs (heart, liver, kidney), maintains visual acuity, and promotes reproductive health. It has loads of Vitamin E for preventing dandruff, dry-flaky skin, skin rashes, and lesions. Also, our pet supplement chews contain healthy minerals (zinc, phosphorus, copper, and iodine), which improve oxygen circulation, organ function and promote a healthy gut. We recommend Bullyade 4 in 1 Vitamin Dog Supplement for dogs suffering from flea allergy dermatitis. There is plenty of vitamin C in there too to boost your pup's immunity!
TASTY CHICKEN FLAVOR CHEWS-We know how your dog feels about pills. This is why we made our Soft Chews with an Irresistible chicken flavor your pooch will find delicious! We used NATURAL FLAVORING on our soft chews to make them tasty and 100% healthy for dogs of all ages.
FOR DOGS OF ALL AGES- Bullyade 4 in 1 Soft Chews is formulated for all our furry friends no matter the age. They can be a supplement for puppies to aid in the growth and development of healthy bones, soft skin, and shiny coat. Our Soft Chews are ideal for older dogs for the needed joint support and replenish necessary vitamins and minerals that boost the immune system and keep sickness at bay.
ALL-NATURAL pet supplement
Bullyade 4 in 1 Vitamins dog supplement is formulated with organic supplements that are safe for all dogs. Our soft chews contain organic flaxseed, brewers dried yeast, dried potato product, and dried shellfish digest.
BULLYADE 4 IN 1 SOFT CHEW FOR DOGS
Bullyade 4 in 1 Soft Chews is an pet supplement that features glucosamine and chondroitin for pet joint support, Omegas 3, 6 and 9 for skin & coat, enzymes & probiotics to ensure proper absorption of nutrients and essential vitamins and minerals for the overall health for dogs of all ages. Each bottle comes with 120 chews made from organic ingredients and a natural flavor that dogs love, especially pups that hate pills. Bullyade 4 in 1 Vitamin dog supplements is for dogs that want to feel and look their best, and enjoy a holistic health even in their senior years. Enriched with healthy probiotics, our soft chews are ideal for dogs that want to keep a healthy gut and prevent gastrointestinal diseases in dogs.
Our soft chews are safe for pet consumption and come in compact and affordable 16.90z bottle. With more vitamins and minerals than most dog supplements on the market, Bullyade 4 in 1 soft chews is an all-in-on solution for promoting healthy muscles, hips, joints, and bones in any dog. Our soft chews also contain Omega vitamins that will keep your dog's skin and coat smooth and lustrous. We recommend our best joint supplement for dogs with chronic skin conditions like flea allergy dermatitis and sarcoptic mange.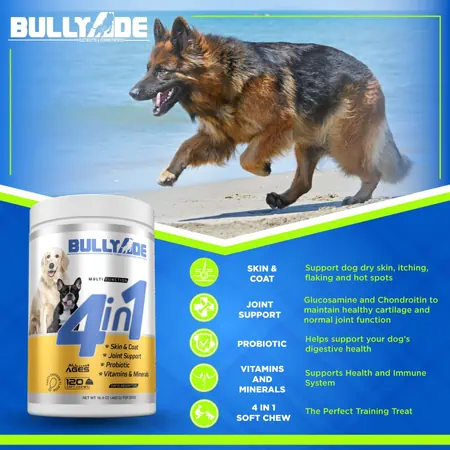 Benefits to your dog
– Natural ingredients for healthy dog hip and joint support
– Has necessary vitamins and minerals required by dogs of all ages
– Maintains smooth skin and a lush healthy coat
– Promotes healthy defined muscles and bone growth
– More energy and activity in both young and old dogs
– Natural chicken flavoring makes these chews irresistible to any dog
– Manufactured in FDA-approved facility
– Made in the USA