Thanksgiving recipes for dogs.
While it is nice to share the thanksgiving spoils with your dog, you also have to mind his diet and health. Dogs find a lot of human foods delicious. But not all human food is safe for your dog to eat.
Dogs are particularly sensitive to human foods such as;
Grapes & raisins (hurts the kidney)

Nuts (vomiting, diarrhea, choking, possible pancreatitis)

Salty snacks (can lead to sodium poisoning)

Onions, chives, garlic (tummy upsets and blood poisoning)
Dogs get sick during thanksgiving because of eating lots of fatty foods. The fats in meat or gravy can upset your dog's tummy or cause him to throw up. Unhealthy fats are rarely digested and only make your dog gain unnecessary weight.
Most of the processed spices we use in our foods are unhealthy for dogs. Avoid feeding your dog meals that contain spices such as;
Cayenne pepper

Nutmeg

Garlic or onion powder

Salt
The American Kennel Club has a comprehensive list of human foods that are unsafe for dogs.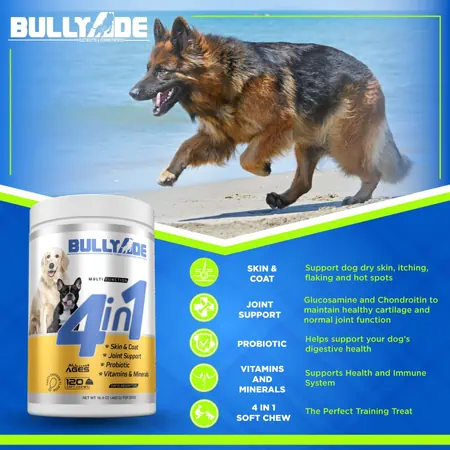 But rather than worry about a long list of unsafe human foods for dogs, why not stick to simple, pup-friendly ingredients right in your kitchen?
We took the liberty of coming up with an easy thanksgiving dinner for dogs.
Our main Thanksgiving dinner ingredients include;
Turkey necks

Green beans

Boiled eggs

Carrots

Corn

Sweet potato

Chicken broth

Bullyade (chicken flavor)
Turkey necks are perfect for large dogs
Large dogs like Bluenose and Rednose Pitbulls thrive on raw meats. It is one of the softest turkey parts that dogs can chew and digest. Do not feed your dog large turkey bones as they are likely to choke him. Deboned turkey breast is perfect for puppies. Also, take the turkey skin off as it contains loads of unhealthy fats. Chop the turkey neck into tiny bits for ease of digestion.
Green beans are a high source of fiber for dogs.
They are low on calories and make your dog feel full fast. Green beans also pack loads of vitamin B6, K, A, and C. This pup-friendly veggie is rich in proteins, calcium, and iron too. Granted, some dogs can get finicky about eating their veggies, which is why we top it up with Bullyade chicken-flavored supplement.
Boiled eggs are a safe and highly digestible protein for puppies and adult dogs.
Something you should note; If this was a meal for puppies, we would throw in the eggshells too. Crushed eggshells are rich in calcium which is necessary for puppy growth and development.
Raw carrots are an ideal chew snack for dogs of all ages. It nourishes your pup and makes his teeth strong. Carrots are rich in potassium, vitamin A, and fiber. In this meal, we use steamed carrots to make it easy for your dog to gobble up and digest. You can slice, quarter, or cube the carrots before adding them to this pet-friendly thanksgiving meal.
Corn is a safe ingredient that acts as a filler in dog food.
It is rich in proteins, carbohydrates, and antioxidants. Corn contains linoleic acid which is a healthy fat for dogs too. Also, corn can be a rich source of fiber for your dog.
Sweet potatoes, like corn, carrots, and green beans, have lots of fiber.
The natural sugars in sweet potatoes are safe and add flavor to your dog's Thanksgiving food. Want your dog to have healthy eyes, skin, coat, muscles, and nerve? Sweet potato has all the vitamin A, B6, C, potassium, iron, and calcium to help with that!
Chicken broth is high in gelatin which restores your dog's gut lining.
Plain chicken broth also improves digestions and reduces flatulence in dogs. Want to detox your dog? Chicken broth has glycine, a natural detoxifying ingredient for purifying the liver and kidneys.
It is a backup plan for missing nutrients in the diet you feed your dog. Also, Bullyade hydrates your dog and replenishes lost electrolytes. The chicken flavor in Bullyade is perfect for enticing a finicky dog to eat its food (and we mean all of it!).
Remember, all the ingredients used in this Thanksgiving canine dinner are safe and AKC approved.
Ingredients
Four to Six pounds of chopped raw turkey neck

Two cups of plain chicken broth

One and a half cups of green beans

Two cups of steamed carrots

Two cups of freshly boiled sweet potato

Four large boiled eggs

Two cans of whole corn

Two to three scoops of Bullyade (chicken flavor)
Method
Add Bullyade to chicken broth and stir. In a large bowl, mix the green beans, carrots, and corn. Add the turkey, boiled eggs, then mix them all. Finally, top it up with Bullyade chicken broth as a nutritious and flavorful garnish.
That's it, let your dog go at his thanksgiving meal with relish. Note that this recipe serves two large dogs like XXL Pitbulls. For smaller dogs, divide the meal into four equal portions. It makes a perfect two-day meal for a Chihuahua or Spaniel.
Additional thanksgiving dog tips
Do not add any spices to these ingredients.

You can switch up turkey neck with chicken legs if you are feeding puppies.

Ground beef is a perfect substitute for turkey too. Go with beef-flavored Bullyade as well.

Feel free to throw in healthy spices like turmeric, basil, oregano, ginger, or parsley. These are safe spices that dogs can eat.

Train your dog to eat from his bowl. It prevents him from begging for food at the dinner gathering.

Avoid feeding your dog morsels from your plate. Feed the dog early and keep him away while the family is eating.
Wrapping up
Your dog can enjoy thanksgiving, or any other festivities, without making trips to the vet. Use this simple thanksgiving dinner recipe, made with Bullyade, to feed your dog and keep him healthy.
A Happy Thanksgiving from the Bullyade Family!