Bed training a dog, no matter its age, can be successful if you do it right.
You can do it in three easy steps and, as you would discover, the training will benefit not only your dog but your family as well (or just you!).
It's bedtime. You just finished binge-watching your favorite Netflix show with Charlie and it is time to retire for a night's snooze.
He saunters across the room, makes for your bedroom, and perches himself gingerly on your Egyptian cotton pillows.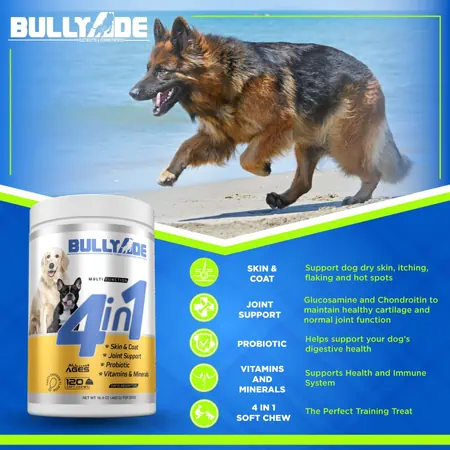 This was a fun thing to watch back when Charlie was a cute little pup.
But now he is all grown and you find the idea of sharing a bed with him a complete nightmare. Of course, you cannot tell him this because you don't want to hurt his feelings. What to do?
Fortunately, bed training a dog is possible no matter what age they are in.
You only need to use three simple tricks in repeated succession until your dog gets it. There are a couple of things you need to know before bed training a dog.
Why Bed Training a Dog is Necessary
Wanting your pooch to start sleeping on his own bed is not a sign that you love him less.
It's just that things have changed and he is a big boy now.
After all, when kids hit teenager's hood, parents start furnishing a bedroom for them because there are no more monsters under the bed to be scared of.
The same goes for your beloved Charlie.
He needs his own bed because you cannot put up with mounds of pet hairs he leaves on your pearly white sheets.
The excessive shedding may end up giving you the sniffles or a more severe allergic reaction.
As Charlie grows bigger, you start to notice how much of an awkward sleeper he is.
If you do not wake up to a paw on your forehead, it is the constant brushing of your mouth with his tail all through the night.
Some dogs stretch their bodies excessively while sleeping while others unconsciously let off the gas, and you do not want to be on the receiving end!
If your dog is an incessant barker, he may end up barking at anything that moves or makes a sound on the other side of the bedroom door.
You do not need this 'involuntary alarm' going off all night when you have to wake up to your own alarm in the morning.
Beyond the bedroom, bed training a dog may come in handy in teaching your dog manners. We are going to explore this later.
So training your dog to sleep in its own bed is a complete necessity.
Not only do you get your peace of mind at night, but you are training him on good behavior as well.
Without further ado, here is how you teach a dog to sleep in its own bed.
The Three Steps for Bed Training a Dog
First, you will need a secluded place with few distractions for your pooch.
You will need his full attention especially if he is an energetic puppy, with loads of ADHD, or a full-grown dog that is used to getting its way.
Secondly, you will need a pouch full of doggy treats, the best dog training sessions are accompanied by rewards.
Thirdly, you will need a cozy dog bed, the one you will train him with and gift him at the end of the training.
First Step
Bring out the dog bed and signal for your dog to come closer with the phrase "Go to Bed".
Do not expect him to jump on the bed immediately. He may curiously sniff, circle, or paw at this new fluffy thing you just bought him.
He made the first progress so reward him with a doggy treat. Toss the treat on top of the bed so he gets on top to gobble it.
Reward him with encouraging words like 'Good Boy' or 'Good Dog' while at it.
Toss a second treat away from the bed and let him go fetch it. It's now time for the second phase of training.
Second Step
Repeat the same gesture, tapping on his bed, and the words 'Go to Bed'. This time, wait until he actually gets on the bed before rewarding him.
No treat for him if he only sniffs or paws at the bed, let him work for that second treat.
When he finally gets on his bed, congratulate him and toss a treat his way.
Third Step
The last step is to make him get on the bed and actually sleep on it. Repeat the first steps again and wait until he is on the bed.
Do not reward him yet, be patient until he actually lies or sits down.
You may have to train him on the command 'Sleep' so he actually gets what the bed is for. When he successfully lies down, reward him with multiple treats.
You have to repeat these three steps several times a week. Do not get agitated when he gets bored quickly (especially young dogs).
Just call off the training and try again another time.
More Benefits of Bed Training a Dog
When the outside training sessions are successful, you can now bring your dog's bed into the house.
Bed training a dog not only teaches your pooch to stay on his side of the fence during bedtime, but it may also be used to teach him good behavior.
Whenever you have guests around, it is best for your dog to be out of site.
A gentle way of telling him to excuse himself is asking him to 'Go to Bed'. You just want him to hang around his daybed until the guests are gone.
Add some toys to keep him busy as you entertain your guests.
Bed training a dog can also help keep him healthy.
If you have kids around who make a mess while eating, Charlie may be tempted to nibble at the morsels that fall on the floor.
While most human food is dog-approved, some delicacies can be outright toxic to him.
Examples include raisins, garlic, onions, or grapes. The 'Go to Bed' command gives him the cue to stay out of sight as your kids feed.
Conclusion
Bed training a dog may take time especially for young dogs or older dogs with no prior training.
However, with a little patience, the above three steps, and lots of treats, your pooch will finally understand why sleeping on his own bed isn't so bad after all.